From Robert Kennedy Jr.'s "Dirty Journal":
"Despite the terrible things happening in the world, my life is . . . great," Kennedy wrote on Nov. 5, 2001.

"So I've been looking for ways to screw it up. I'm like Adam and live in Eden, and I can have everything but the fruit. But the fruit is all I want."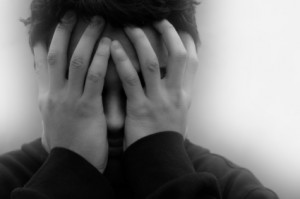 The fruit Robert Kennedy Jr. wanted was sex with women other than his wife, Mary Richardson Kennedy. Robert kept a journal about his encounters with multiple women, assigning a number to the type of sexual act that took place. What's most telling about his journal entries is that the days he didn't cheat on his wife, he wrote the word: "Victory." His addiction was so severe, he enjoyed spending a month in jail because it removed him from temptation. He writes:
"I'm so content here, I have to say it. There's no women. I'm happy! Everybody here seems happy. It's not ­misogyny. It's the opposite! I love them too much."
In his sober moments, Kennedy knew that his addiction was ruining everything precious and valuable.
But yet he continued. His sexual urges felt too powerful.
Do you ever feel this way? Do you ever feel that sexual sin is sabotaging your life? Like you can't stop?
There is a power to stop. To encounter this strength requires humility and faith because the power comes from God, and it follows our faith in His character and words. There's no magic bullet—we can't remove all temptation from our lives. However, we can say "no" to it by believing what God says to the point of acting on it. Here are several truths that have helped me trust God and experience His power over sexual temptation:
Your sexuality (and body) is GOOD—it's a gift from God: "Therefore a man shall leave his father and his mother and hold fast to his wife, and they shall become one flesh. And the man and his wife were both naked and were not ashamed." (Genesis 2:24-25)

God wants you to have sex with your spouse: "The husband should give to his wife her conjugal rights, and likewise the wife to her husband. For the wife does not have authority over her own body, but the husband does. Likewise the husband does not have authority over his own body, but the wife does. Do not deprive one another, except perhaps by agreement for a limited time, that you may devote yourselves to prayer; but then come together again, so that Satan may not tempt you because of your lack of self-control." (1 Corinthians 7:3-5)

God's commands about your sexuality are intended to provide joy and pleasure. Sexual immorality, on the other hand, hurts you: "Flee immorality. Every other sin that a man commits is outside the body, but the immoral man sins against his own body." (1 Corinthians 6:18)

God's will, which ALWAYS holds your good, is that you not mess around with porn, flirt with people other than your spouse, or have emotional or physical affairs: "For this is the will of God, your sanctification; that is, that you abstain from sexual immorality;" (1 Thessalonians 4:3)

Faithfulness, and enjoying the presence of God, is better than anything this earth could offer… especially the temporary excitement of sexual immorality: "Thou hast put gladness in my heart, More than when their grain and new wine abound." (Psalm 4:7)

"You make known to me the path of life; 
in your presence there is fullness of joy;
 at your right hand are pleasures forevermore." (Psalm 16:11)

Sexual sin—lust, pornography, and infidelity—chokes your soul: "Abstain from fleshly lusts that wage war against your soul." (1 Peter 2:11)

"The desire for other things enters in and chokes the word and it becomes unfruitful." (Mark 4:19)

You can make a commitment to God to guard your eyes from images, videos, and people that will cause your heart to sin: "I Have made a covenant with my eyes; How then could I gaze at a virgin?" (Job 31:1)

As powerful as sexual temptation feels in the moment, it can never overpower you. God will always give you strength sufficient to say "no"…if you trust Him: "No temptation has overtaken you that is not common to man. God is faithful, and he will not let you be tempted beyond your ability, but with the temptation he will also provide the way of escape, that you may be able to endure it." (1 Corinthians 10:13)

View every woman you meet (or man) as a person—a soul God has created—and not simply a body: "From now on we recognize no man according to the flesh; even though we have known Christ according to the flesh, yet now we know Him thus no longer." (2 Corinthians 5:16)

Know that Jesus died to give you power to walk in purity: "Christ gave Himself for us, that He might redeem us from every lawless deed and purify for Himself a people for His own possession, zealous for good deeds." (Titus 2:14)

"He died for all, that they who live should no longer live for themselves, but for Him who died and rose again on their behalf." (1 Corinthians 5:15)

We need one another—accountability to our spouse and friends is huge in experiencing God's power: "Take care, brethren, lest there should be in any one of you an evil, unbelieving heart, in falling away from the living God. But encourage one another day after day, as long as it is still called "Today," lest any one of you be hardened by the deceitfulness of sin." (Hebrews 3:12-13)

Put God's Word in your heart—truth helps overcome temptation: "I have written to you, young men, because you are strong, and the word of God abides in you, and you have overcome the evil one." (1 John 2:14)

"I have stored up your word in my heart, that I might not sin against you." (Psalm 119:11)

Rely entirely on the Spirit of God for victory. Pray to Him and ask Him for help: "And do not lead us into temptation, but deliver us from evil." (Matthew 6:13)

"And when He arrived at the place, He said to them, "Pray that you may not enter into temptation."" (Luke 22:40)

Love Grace, and thank God for His patience: "They refused to obey and were not mindful of the wonders that you performed among them, but they stiffened their neck and appointed a leader to return to their slavery in Egypt. But you are a God ready to forgive, gracious and merciful, slow to anger and abounding in steadfast love, and did not forsake them." (Nehemiah 9:17)
You are not alone in your struggles, friend. There is a way out for you if you want to stop the sabotage. His name is Jesus, and He promises fullness of life to those who trust and obey.
_________________________
 For more on finding the most in life, check out Zeke's book, "Man on the Run."