"The fish and I were both stunned and disbelieving to find ourselves connected by a line."

– William Humphrey in The Armchair Angler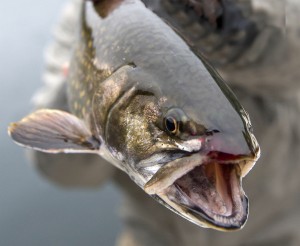 I'm not a fly fishing guru. I usually learn something new each time I enter a fly shop or watch a YouTube video. Most of what I've learned about the sport has come from a couple friends, Scott and Jason—these two experts (my label, not theirs… they'd hate that description) have patiently fielded my questions about the anatomy of trout streams, the differences between midges and nymphs, and when to use weights, indicators, and flourocarbon tippet. And I couldn't begin to count the number of times Scott has had to teach me how to tie a nail knot—that man has rewards in heaven for that display of patience alone. Thanks to Scott & Jason, I've learned enough that I can catch a few fish, and teach my kids how to enjoy the sport.
Last week, I took a couple days off and fished Taneycomo (Branson, MO) with two friends, Jeff and Chris. Thursday—our first full day in the water, and the first full day off I've taken since January 30—was indescribably refreshing… for me, there's nothing like standing in the water for eight hours, with a friend on either side, and with nothing to worry about except whether I was going to order pulled pork, or ribs, later on that night. (However, if you know me, you know that's no small issue—I hate the feeling I ordered the wrong item for dinner.)
Here's a video from our trip last week (below). I had a bit of fun with the GoPro, filming some underwater shots of our catches and releases.