By Carol Hovis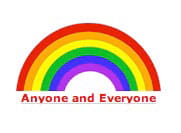 On a warm summer evening last August, the Marin Interfaith Council, located in Marin County, CA, held a movie night to show the acclaimed film, Anyone and Everyone. The film isa 57-minute documentary of poignant and inspiring interviews with parents of adult gay sons and daughters. The parents come from Hindu, Southern Baptist, Jewish, Roman Catholic, Presbyterian, and Mormon religious traditions. The families are Asian American, African American, European American, Native American, and Latino. There are honest and heart-warming interviews with the daughters and sons as well.
About 40-50 people attended our event. We had Jews, Presbyterians, United Methodists, evangelicals, Roman Catholics, Pagans, atheists. We were gay and straight. Together we viewed the film. Afterward we asked the Executive Director of Spectrum, a local nonprofit that reaches out to the Gay/Lesbian/Bisexual/Transgender community, to speak on her reactions to the movie. Then we asked a local evangelical pastor to speak. Both spoke from their hearts about their individual struggles with Christianity and its historic marginalization of the gay community. At the same time, the pastor spoke about the importance of scripture in his own life and his continued desire to seek truth. He was honest about his ambiguity regarding the "rightness" of gay lifestyles.
Then, the larger group broke into smaller, mixed groups of 5-7 persons. In these smaller groups, each person had an opportunity to speak about his or her thoughts and feelings regarding the film.
Suddenly, in these small groups, revelations began to unfold. An evangelical pastor "met" an ordained minister who is an "out" gay man. In the same group, a young woman in her 20s hesitantly shared that she was an atheist. In another group, a lesbian woman in her 60s shared her life story with another evangelical pastor and his wife. Finally at the end of the evening, a gay couple told their story of having to leave "the" church because of their feeling unwelcome and excluded. When the one partner spoke, the pastor's wife had tears in her eyes.
As we concluded the evening, we agreed that we were not all exactly at the same place regarding the full inclusion of gay/lesbian/bisexual/transgendered people in our religious communities; however, we did agree that something powerful had happened in the room that night. People's stories had been honored. People felt safe to speak. People's hearts were moved.
Finally, as my colleagues and I de-briefed the evening, we were equally struck that the most eloquent speaker in the film is a devoted member of the Church of Jesus Christ of Latter-day Saints. We did not have anyone from the LDS community at our event that night and some admitted in one small group their own prejudice regarding the Mormon faith. Yet, when we left that summer night, it was an articulate, powerful, committed Mormon woman who changed all of us, religious and atheist, gay and straight.
Read more articles on Interfaith Dialogue in the Public Square.
The Rev. Carol Hovis is an ordained Presbyterian pastor and the Executive Director of the Marin Interfaith Council in San Rafael, CA. Visit the website at www.marinifc.org.
11/5/2009 5:00:00 AM