By Corbin Tobey-Davis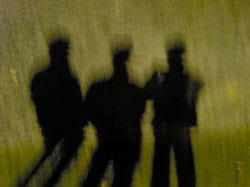 Nestled in the beautiful hills of the Presidio in San Francisco lies a historic chapel. This former military chapel is now home to the Interfaith Center at the Presidio. Inspired by the words of Hans Krug, who proclaimed "there will never be peace in the world until there is peace amongst the world's religions," the founders sought to cultivate relationships amongst the various interfaith councils in the Bay Area and further the work of interfaith bridge building. Thus the ICP was born. It was in this Chapel that I experienced the power of interfaith dialogue firsthand.
For close to two years I was a part of an intentional interfaith dialogue group that met monthly. Dubbed "friends in faith," the meetings grew from a shared vision of cultivating more interfaith youth engagement in the Bay Area. It was our belief that the movement for more understanding amongst the world religions had to begin with the youth of our various faith traditions if it were to ever gain traction in the world.
We soon came to realize that before we could guide our youth into interfaith interaction we first had to experience this with each other. In essence we became a sort of laboratory, fine tuning the practices we sought to ignite in our youth while reaping the rich benefit of engaging with each other. Amongst our group was a young Muslim woman who worked with youth, a young Episcopal priest who worked with the youth at his church, a Jewish woman who led Hebrew school, a young Baha'i man taking classes at Stanford, a couple from the Unification Church, a woman connected with the Neo-Pagan community, a Buddhist man who worked on bringing spirituality to local schools, and myself, a member of the United Church of Christ and a youth worker.
Using a process based on the modalities of appreciative inquiry, we set about cultivating conversations around the core positive elements of our faith that informed our personal spiritual journeys. In sharing these core truths and experiences, a deepened understanding of how our individual religious paths shaped the way we moved and worked in the world emerged. I found that through these exchanges my own journey as a Christian sojourner was deepened and strengthened.
On one particular night, we all brought a teaching from our own tradition that had played an important role in our individual faith formation. As we sat and listened to each other read from our sacred texts, share wisdom sayings, and share spiritual tenets, there was a mutual feeling that can only be described as a deep sense of gratitude and honor.
In using appreciative inquiry to explore our faith with those whose journey differs from ours, we are opened to the depth of our own truth, a depth that can be lost in the expectancy of routine that often comes with our religious rituals. In an interfaith space we are required to look anew at our own traditions and see more deeply the impact they have in guiding our journey.
In listening to a follower of Islam explain the power and struggle of Ramadan, I was able to view the sacrament of communion with a deepened appreciation. Hearing a Buddhist share the construction of interconnectedness helped to inform more deeply my understanding of the Christian call to Love of God and Love of Neighbor.
This is the power of interfaith work - by sitting with those who are grounded in a faith tradition other than our own, we are opened to another piece of the Divine mystery. These moments of sharing profoundly expanded how we were able to conceive of God. These conversations grounded me in the limitless nature of God while allowing me to cultivate more deeply an appreciation for my path as a Christian - a path in which I am called to cultivate partnerships with other sojourners seeking a more just and peaceful world.
Corbin Tobey-Davis is a recent graduate of Pacific School of Religion in Berkeley, California. He is currently in-care with the United Church of Christ and is pursuing ordained ministry. His many passions include youth ministry, cultivating interfaith connections, and justice work.
11/4/2009 5:00:00 AM