By Talia Davis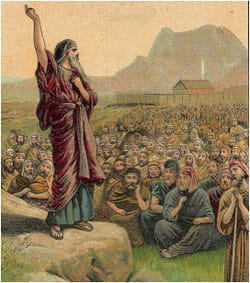 The parsha (weekly Torah portion) for the week ending July 24 is Va'etchanan. Va'etchanan means "and I pleaded" and it is the first word in the portion. Be sure to check out the video at the end of this article!
This portion continues where Devarim left off. Moshe is recapping the history for the younger generation. But first, Moses asks G-d if he could please cross the Jordan and see this land that he had fought so hard to get to. G-d became angry. Why would Moshe not just accept this decree from G-d? G-d told Moses to climb Mt. Pisgah and from there he could look into the land of Canaan, Israel. G-d also instructs Moshe to give Joshua all the instructions he needs as well as the courage to lead the people into the land.
Interestingly, in Numbers we were told that Moses was not allowed to go to the land of Israel because he struck the rock two times to give water when G-d told him all he needed to do was talk to it. Here, Moses blames the Israelites for his inability to cross into Israel. They were the ones who wanted the spies and they were also the ones who accepted the bad reports.
Getting past this hurt, Moses tells the Israelites to follow the laws G-d has set out for them and not to change them (by addition or subtraction), reminding them of what happened to those who chose to follow Baal-peor. Moshe stressed that following the laws would only help the Israelites and give them insight; no other nation was so close to G-d and only G-d's laws were perfect.
Moses was very clear that the Israelites should remember the events they saw and the ones their tribes had taught them. They must teach them to their children and the many generations that come after them. He continues his recap of the events leading up to this point. Remember when, at Horeb, the mountain was on fire and G-d spoke to the Israelites through the fire? How G-d had delivered the Ten Commandments? But this wasn't only a recap. G-d instructs Moses to teach the laws they must observe in the new land they were going to occupy. Moses goes on to implore the Israelites neither to represent G-d with any shape nor to assume G-d was the stars, moon, or sun. Why? Because G-d took us out of the land of Egypt.
Next, Moses explains to the Israelites that G-d was very angry with him and that he would not be allowed to enter the land on the other side of the Jordan. He reminded them not to forget that they had made a covenant with G-d and not with a graven image. He then speaks again about the cities of refuge designed to offer respite to people who inadvertently killed a person and sought a fair trial.

Moshe then calls the Israelites together to review and remind them of the Ten Commandments given to them as a covenant. Here we find the ten repeated as a reminder.
1. I am Adonai your G-d.
2. You shall have no other gods before me.
3. You should not swear falsely.
4. Observe Shabbat and keep it holy.
5. Honor your father and your mother.
6. Do not murder.
7. Do not commit adultery.
8. Do not steal.
9. Do not bear false witness.
10. Do not covet.
These commandments were given to Moshe by G-d and delivered to the people Israel.
At this point, Moses tells the people of the Shema and V'ahavta, which offers up many reminders for Jews. "Hear, O Israel: the Adonai our G-d, the Adonai is one."
"And you shall love the Lord your God with all your heart, and with all your soul, and with all your might. And these words, which I command you this day, shall be upon your heart; and you shall teach them diligently to your children, and shall talk of them when you sit in your house, and when you walk by the way, and when you lie down, and when thou rise up. And you shall bind them for a sign upon your hand, and they shall be for frontlets between your eyes. And you shall write them upon the doorposts of your house, and upon your gates."
7/20/2010 4:00:00 AM