Save me, O God!
For the waters have come up to my neck.
Out of the depths have I cried unto thee, O LORD.
Thank God for the honesty of the psalmist. He prays in a time of crisis. We, being flesh and bone creatures, are very much scared of crisis. Quite simply, we don't want our mothers to die, our friends to have cancer, our cars to crash or our country to be attacked. But in the midst of all these (very legitimate) fears, we often miss the value of a good, old-fashioned crisis. Bear with me. The psalmist cries to God "from the depths."
Which we can often take to mean this: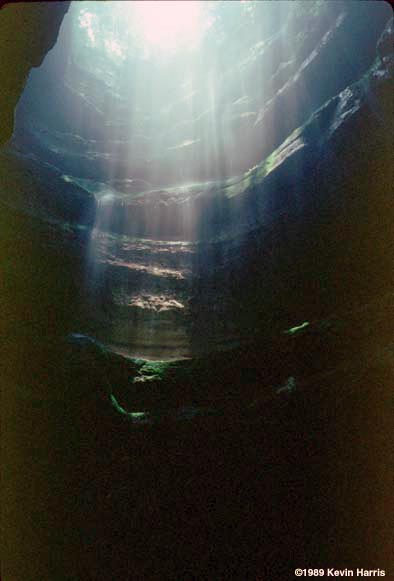 But actually means this.
In case you were wondering, one is a deep dark pit, the other is the conglomerate of organs, blood vessels, and raw tissue that make up what I believe can be termed as "yer innards". The distinction is important. The former insinuates that you are calling on God from a dark place of pain, which, in times of crisis, is most likely true. But the latter insinuates that you are calling on God from the most visceral, most fleshy, most human place within you. Literally speaking, you cry out to the Lord from your guts.
I believe the psalmist knew exactly what he was talking about. See, in times of real crisis, it would take an incredibly holy person to reach the kind of spiritual focus and peace that we so often emphasize when praying to God. When you've had your legs blown off it's not easy to meditate. When your best friend gets buried in the ground, spiritual peace seems infinitely far away.
But we are told to cry out from the guts, from the very midst of that human suffering, from our very humanness.
Which, and here is my main point, is really very easy to do. It's very easy to be human. Crying from the digestive system is much easier than crying from the subtle finesses of the soul. So when you next experience a crisis, don't hesitate, drop to your knees, plead with God, rant at God, cry bitter tears, yell into a pillow, but don't let that crisis go by without meeting God in your humanness, in your brokenness. It took John Wayne the crisis of death itself to pray properly, and to become a Catholic on his deathbed. Ain't the perfect way, but it'll do. Some real praying from the gut is exhibited by our good friend Clooney, who portrays a man who never took much stock in God. But when the crisis hits, its time to pray from that very crisis. Its time to pray from your depths.
But we do avoid it. Often we mistake crises for crosses. (In fact if you misspell the plural of crisis as "crisises" the suggested proper spelling given by my computer is "crosses", revealing a spiritual misconception inherent in Macs.) But know they are not the same. A cross is something you must carry to your death, and until then it is not something overcome or flung away. A crisis is something requiring immediate confrontation, not life-long confrontation.
But how often, when tragedy overwhelms us, do we treat it like a cross? Our family member dies and we say that God is testing us. We say that we have to bear it silently, patiently. We say we have to let such an event mold our lives, to learn from it. We feel suddenly distanced form God and we say we must turn our hearts back to him, slowly, day-by-day. While such bravery is admirable, but only in the same way the man who chooses to kill the dragon by running him in circles until he or it dies is vaguely admirable. There is an easier way, and it is this:
I sink in deep mire, where there is no standing: I am come into deep waters, where the floods overflow me.
3I am weary of my crying: my throat is dried: mine eyes fail while I wait for my God.
4They that hate me without a cause are more than the hairs of mine head: they that would destroy me, being mine enemies wrongfully, are mighty: then I restored that which I took not away.
5

O

God, thou knowest my foolishness; and my sins are not hid from thee.
6Let not them that wait on thee, O Lord GOD of hosts, be ashamed for my sake: let not those that seek thee be confounded for my sake, O God of Israel.
7Because for thy sake I have borne reproach; shame hath covered my face.
8I am become a stranger unto my brethren, and an alien unto my mother's children.
9For the zeal of thine house hath eaten me up; and the reproaches of them that reproached thee are fallen upon me.
10When I wept, and chastened my soul with fasting, that was to my reproach.
11I made sackcloth also my garment; and I became a proverb to them.
12They that sit in the gate speak against me; and I was the song of the drunkards.
13But as for me, my prayer is unto thee, O LORD, in an acceptable time: O God, in the multitude of thy mercy hear me, in the truth of thy salvation.
14Deliver me out of the mire, and let me not sink: let me be delivered from them that hate me, and out of the deep waters.
15Let not the waterflood overflow me, neither let the deep swallow me up, and let not the pit shut her mouth upon me.
Don't let a crisis be a time of wallowing. Let it be a time where nothing else matters and you turn to god, plain and simple. In my last post I talked about being a man, but here all you need to do is be human! I know I have much more to say on this, but it eludes me now. I have a great idea for my next post, though, given to me by my favorite Protestant in the world, Anna Elizabeth, who works fast-food with me, and is incredible. May God bless you my friends! Please share your thoughts if you have any; they tend to be more insightful than mine.