With so much attention focused on preparing the faithful for the new Roman Missal, it's worth noting that it's being translated into yet another language — the language of the deaf.
The National Catholic Reporter notes:
Across the country, deaf and hard-of-hearing Catholic communities and their interpreters are preparing for the November changes thanks to free online resources.

The National Catholic Office for the Deaf served as the launching pad for a series of video clips as preparation and as a reference for the new translation of the Roman Missal into American Sign Language (ASL). The videos, posted in April, are available on YouTube and the Washington archdiocese's Web site at www.adw.org/service/interpreter_training_newromanmissal.asp. The archdiocese created the videos.

Other deaf apostolates have created training as well, such as Boston, which has its own online training videos at www.deafcatholic.org. In addition to online resources, it provides in-person workshops for Boston Catholics, said Fr. Jeremy St. Martin, director of the office of the deaf apostolate in Boston.

The idea for the video clips on the Washington archdiocese Web site came from Mary O'Meara, executive director for the Department of Special Needs Ministries for the archdiocese. O'Meara grew up going to signed Mass with her father, who was deaf. She also has degrees in linguistics and interpreting from Gallaudet University, a Washington school designed for deaf and hard-of-hearing students.

Often, she said, "those marginalized communities, like the deaf Catholic community or other communities of persons with disabilities, are kind of left in the dust in these big changes that we experience in the life of our church."

This online resource, she said, prepares them in advance and helps them feel comfortable and familiar with the changes.
Read more. And you watch the Archdiocese of Washington's introductory video below.  You can find the rest of the series at this link.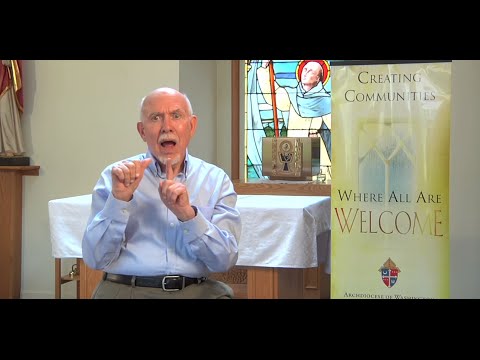 Related: Beautiful Ordination Video of a Deaf Priest