Anne Thompson of Variety says the trailer below for Walk Hard: The Dewey Cox Story — a Judd Apatow-produced parody of recent biopics like Ray (2004) and Walk the Line (2005) — "sank like a stone" when it premiered at Comic-Con last month.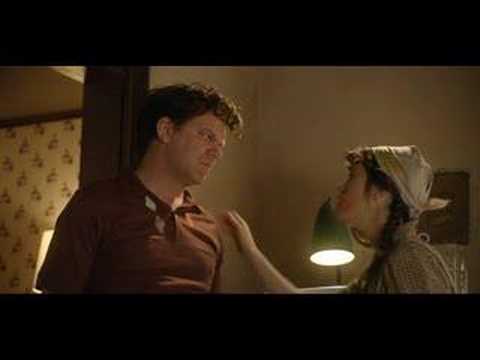 Click here if the video file above doesn't play properly.
As a parody of a particular kind of movie genre, I think this film may have its merits, based on what we see here. But many of these scenes are based directly on scenes from Walk the Line that revolved around the intensely personal pain that drove Johnny Cash for much if not all of his life… and when I remember how respectful, if not reverent, everyone was towards Cash on the junket for that film, which came out only two years after he died… Well, "blasphemy" might be a strong word for what this trailer does, but I imagine some of his fans might feel that way.
Let's put it this way. It is one thing for This Is Spinal Tap (1984) to have gags about drummers choking to death on their vomit — a fate that has, sadly, befallen more than one rock star — or for The Rutles: All You Need Is Cash (1978) to parody nearly every aspect of the Beatles' public persona once they put themselves on the world stage. (In that case, George Harrison actually gave the parody his imprimatur by playing a small part in the film.)
But Walk Hard tries to milk laughs from things that took place before Cash offered up his life for public consumption, such as the fact that his brother died when they were both still children, or the fact that Cash's father resented him for being the son that lived. Heck, I'm even a little uncomfortable with the way the film tries to milk laughs from the collapse of Cash's first marriage (though I do love the punchline that follows "I do believe in you…").
Even though these aspects of Johnny Cash's life were dramatized in a major, popular, Oscar-winning movie, they still feel somehow private, almost confessional. They were entrusted to us. And I don't know if it's possible to mock the movie version of those private things without mocking the private things themselves.