In December, I plan to take dead aim at some of the myths that surround the Christmas story. I'm not talking about the rosy-cheeked, red-suited, white-bearded jolly man we call Santa Claus nor about Christmas trees or elfs. I'm rather speaking of what goes into nativity scenes and movies that are assumed to be in the Gospel story . . . but which aren't.
Today, however, I want to make you aware of a new book that explores the historical person behind the Santa Claus myth. In The Saint Who Would Be Santa Claus, historian Adam English weaves together a compelling narrative of Saint Nicholas, the 4th century bishop of Myra.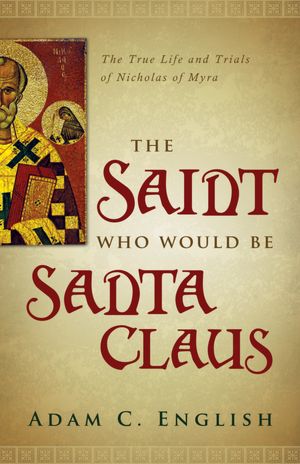 English does a fine job sketching out the historical evidence for this somewhat familiar person. And some of it is fascinating. He also interacts with some of the other biographies on Nicholas, showing where they fall short.
Aside from some pretty admirable character traits, Nicholas was involved in the Council of Nicaea and the destruction of the temple to Artemis in Myra. I plead ignorance to all of this. So the book was informative for me as well as an interesting read. It's also based on good scholarship, yet it's highly readable.
If you're someone who has a penchant for learning history, and you've wondered if anything historical stands behind the Santa Claus legend, this is probably the best book you'll find on the subject.
Order The Saint Who Would be Santa Claus in hardback
Order The Saint Who Would be Santa Claus in Kindle
Want to delve deeper?
* Podcast
* Courses