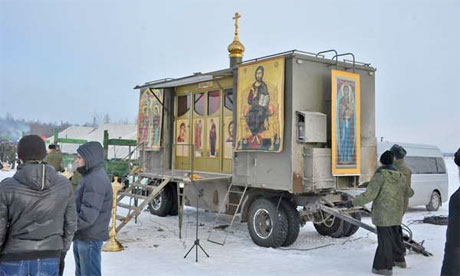 I have to hand it to the Orthodox in this case, with their strong sense of "sacred space."  This is the property, remember, of what was "the Red Army" not that long ago, in what was formerly the officially and aggressively atheist Soviet Union.  From the Guardian:
The Russian military unveiled an unlikely new weapon in its arsenal this month – an army of parachuting priests. The unit of chaplains, who have joined the Russian Airborne Force to train in parachute jumping and vehicle assembly, will operate out of flatpack churches that can be airlifted in to wherever soldiers may be stationed.

The church could be mistaken for a standard-issue army cabin, taking the form of a khaki-coloured shed on wheels, were it not for the cladding of gilded icons and the majestic onion dome spire sprouting from its rooftop. The mobile prayer room has also been fitted with a "life-sustaining module", which includes a diesel power source, an air-conditioning unit and a fridge, reported Russia Today.

The chapel is flown in as a kit of parts, delivered via the kind of airborne platform usually used to carry armoured vehicles and other heavy military equipment, and is then assembled on the ground. Within, the gilded interior incorporates crucifixes, bells and icons, as well as a mini theatre – which can be extended sideways with additional wings, thus forming the cross-shaped plan of an Orthodox church.
via Russian army introduces the flying Orthodox church-in-a-box | Art and design | guardian.co.uk.