No, it's not the title of a new animated musical feature, although it should be. It's the nickname of this little fella (turn down your speakers: it gets loud):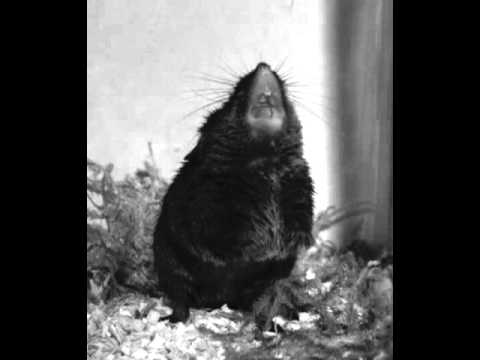 This is Scotinomys teguina, another of God's weird and wonderful little masterpieces. He chirps a single note about 20 times a second in order to woo a mate and establish territorial dominance. It's a pretty amazing performance, for a mouse, and it may eventually help researchers pinpoint genes affecting speech disorders in humans, including those related to autism.
The gene in question is called FOXP2, and University of Texas at Austin researcher Steven Phelps says "it's the only gene that's been implicated in human speech disorders specifically."
Having at least one mutated copy of the gene has been associated with a host of language problems in humans, from difficulty understanding grammar to an inability to make the precise mouth movements needed to speak a clear sentence.

The FOXP2 gene is remarkably similar overall between singing mice, lab mice and humans, said Phelps. To find parts of the gene that may contribute to the singing mouse's songs, Phelps is searching for sequences unique to the singing mouse and testing them for evidence of natural selection, which weeds out mutations with no likely observable effect from those that are likely to contribute to singing behavior.

"Those two things go a long way," said Phelps, " And when you look at the intersection of those two things they give us a really good set of candidate regions for what might be causing species differences."

…

Phelps' uses next-generation sequencing to decipher how FOXP2 interacts with DNA to regulate the function of other genes. The process involves reading tiny fragments of overlapping DNA so that the entire sequence can be deduced. It is a procedure that generates massive amount of data that only the processing power of a supercomputer can handle, said O'Connell.

"You need TACC to do it," said O'Connell, referring to the , which houses the supercomputers the lab uses. "The more data you have, the more memory it requires, so a lot of the data we can only process on Lonestar's high memory nodes."

Lonestar and Ranger are the names of the two supercomputers that the Phelps lab uses to crunch their data, with Ranger running programs in two hours that used to take the lab three days to run on their desktop. Both computers are among the top 100 supercomputers in the world.
The goal is to uncover how FOXP2 gives the mouse his song in order to better understand language defects in humans. Read the whole thing at Phys.org.