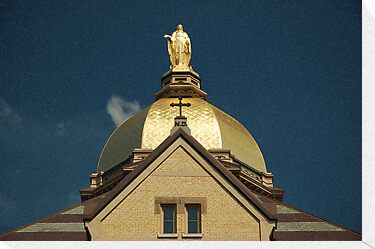 Notre Dame is the premiere Catholic institution of higher education and research in the United States of America. Period. I don't have a single degree or academic affiliation motivating me to say that. This assertion should be self-evident.
Keyword: should.
I am also a life-long fan of the Fighting Irish and, with their recent athletic success, I've been hearing fellow Catholics — including some of my nearest and dearest friends — say all kinds of negative things about Notre Dame's Catholic identity and academic integrity. Let me be very clear about this whole non-issue in three parts.
1. Besides its academic prowess, Notre Dame has a very long and storied history of sport, especially football; one that has created the perhaps most enduring and recognizable form of Catholic culture in the United States. This cultural resonance is worth its weight in gold. It is also unprecedented by any other Catholic institution in this country.
2. Notre Dame is not only number one in the BSC rankings for its performance on the football field, it is also the highest rated institution in graduation rates for student athletes. And no, they don't offer recreation management degrees or other blow-off programs. These athletes are doing their work side by side the selective group of students whom ND admits every year. This is exceptionally unique and worthy of respect.
3. There is no room here to list all of Notre Dame's academic accolades and accomplishments. Except this relatively minor, but most recent, one: today First Things editor, R.R. Reno, has them tied for first place with Duke Divinity School for top graduate programs in THEOLOGY. Theology. You don't get much more conservative than First Things and you don't get much more, well, theological than theology. Catholics should be proud of that too, obviously.
To summarize: a small bloc of Catholics (and media opportunists) are railing against Notre Dame because of its lack of "true Catholic identity." Have these people visited the campus? Sat in on classes? Worshiped in the Basilica of the Sacred Heart or prayed in the Grotto? Whether they have or not, this ignorant out-of-hand dismissal ignores Notre Dame's fine, well-established, and important place within the Catholic intellectual tradition and American culture in general.
And guess who
isn't
all worked up and indignant about Notre Dame? Faculty hiring committees at Catholic colleges and universities.
I promise you that no one being considered for an academic position at a Catholic institution, like my alma mater (Franciscan University of Steubenville) or Ave Maria or alike, is disadvantaged for having studied at Notre Dame. They are without question benefitted by it. Notre Dame supplies other US Catholic colleges and universities with countless faculty, many of them faithful and brilliant Catholics. Plus, these small, mostly undergraduate institutions are absolutely thrilled when their — often best and brightest — students matriculate to Notre Dame for graduate school.
Notre Dame is far from perfect, that goes without saying. But that is also a sad, reactionary understatement. Notre Dame is much more than not perfect: it is to be admired and held in high regard. If my children are ever so blest as to go there, I'll be incredibly grateful.
Sadly, many of the complaints and noise surrounding Notre Dame project a great deal of insecurity. The Vatican had very little to say about Obama's visit there and certainly has not taken action against Notre Dame. See? Total ecclesial confidence. But this isn't about Obama or abortion, this is about Notre Dame. Those who cannot see a distinction between those things should lay off the television and the news cycle for a while. At least until January.
On January 7, when the Notre Dame Fighting Irish suit up to compete for a national championship, save the pious indignation about whether Notre Dame is Catholic or not. Trust me, they are. Win or lose, the historical record on her behalf will surely dwarf the rather recent fad of discrediting her.
Go Irish!