by Ambaa
Copyright: 2011
Publisher: Amazon Book Publishers, Inc.
Is it possible for a non-Indian woman, an American of European decent, to be a Hindu?
Sometimes the religion that you're born into isn't the right one for you. What happens when the religion you fall in love with is one that traditionally does not accept converts? Both an ethnicity and a way of life, Hinduism is considered by many to belong only to Indians.
Ambaa, a white woman in America, forged her own path into Hinduism. Her spiritual journey through writing and connecting with others shows the power of pure religion to overcome the boundaries and separations of race and ethnicity.
Her story is a fascinating journey of a young woman's struggle to find identity in the melting pot of America.
There are more and more white Hindus and non-Indian Hindus every day. How do they make a place for themselves in one of the world's oldest religions? Do they take on Indian culture and customs as well as religion? Or do they make it their own?
This book is for anyone who wonders:
Can we explore and connect to a religion that is not traditionally followed by our ancestors?
What does Hinduism look like through non-Indian eyes?
What is the importance or the place of spirituality in our lives?
The essays in this book, based on the popular White Hindu blog, explore a variety of the issues that non-Indian Hindus struggle with…
Is it possible to convert to Hinduism?
Why is Ambaa so concerned with skin color?
How important is culture in the practice of Hinduism?
What does polytheism really look like in practice?
This book is a collection of essays about culture, identity, religion, language, and humanity tracing one woman's spiritual journey from defensiveness to peace.
"I do believe that Hinduism is universal, it is for all people. Every scripture, every piece of Advaita talks about the unity that pervades the creation. We are not our superficial differences, we are all one God.
I don't believe that anyone should be told not to do something because of his or her skin color or ethnicity. I come to Hinduism with respect and deference and I know that my soul is the same as anyone else's." –Ambaa
A simple guide for getting started in your Hindu lifestyle. Includes a six week program to ease you into home worship and finding a local community as well as essays on a variety of topics important to new practitioners of Hinduism, such as Do I Have To Be A Vegetarian? and How Do I Tell My Family?
Resources for the American Hindu home 
Eco-friendly Ganesh Chaturthi Statue. You don't need the grandest Ganesha murti to immerse in the water for his birthday: you need one you know will safely biodegrade and not harm the river you give him to. This little statue is made of salt, flour, and water with cloves for eyes!
Raksha Bandhan (Rakhi) Bracelets (set of three). For ladies to let the men in their lives know how much they appreciate them, hand crocheted red thread bracelets. Get multiple sets to cover all the men you want to honor!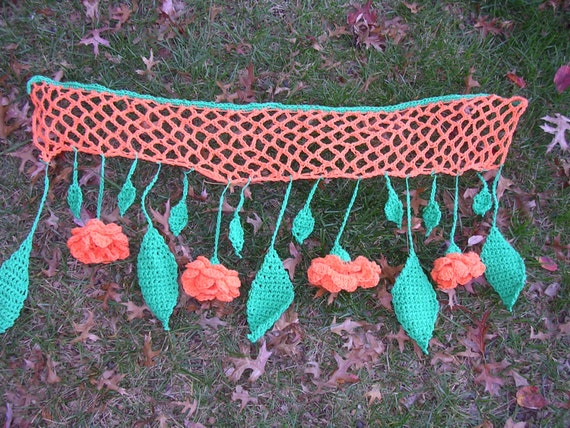 Make your home more festive with this hand-crocheted toran. Made from machine-washable cotton yarn so it can be left up year round or saved and reused year after year.
The cheerful marigold blossoms can be made in orange or yellow with matching lattice-work heading.
Perfect for Diwali with its marigold-and-mango-leaf design!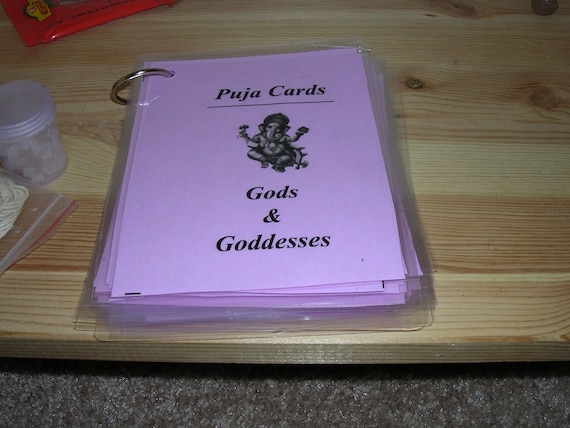 Puja Cards: Gods and Goddesses
FREE source file to print at home for subscribers at the Premium Blog.
This laminated deck of cards will guide you through every step of performing proper worship pujas to the major Gods and Goddesses.
Maybe your grandmother used to do all the home pujas and now you'd like to learn how, but have no one around to teach you. Maybe you're a new Hindu and you want to know how to worship properly at home.
Instead of trying to memorize everything, keep this deck of cards in your puja room. Easily flip through it to get to the God or Goddess you would like to worship. Cards include a list of materials you'll need, all the mantras and prayers you will need, and step by step instructions.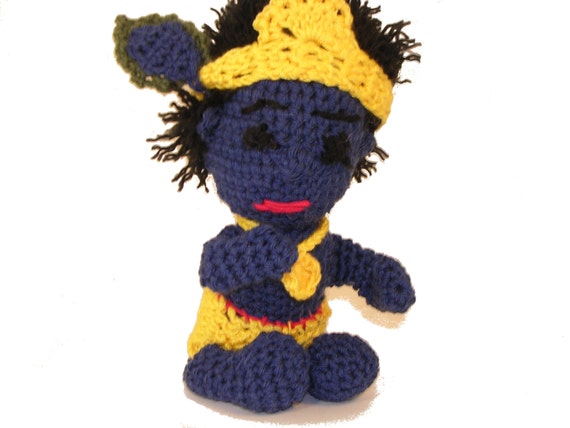 Baby Krishna with Hammock Crochet.  Designed for Krishna Janmashtami, so you have a baby Krishna to swing in his craddle at midnight, but great to have all year round. He is so sweet and cute, he'll make you smile every time you look at him!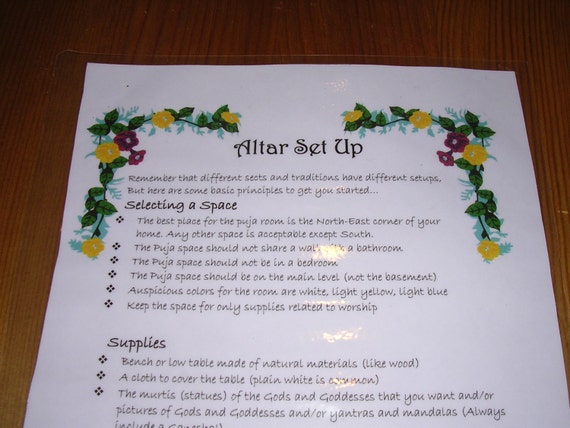 Hindu Altar Set Up Cheat Sheet
Free with purchase or $1.00 each
Peacock blue lace stole for Krishna Idol
Dress Sri Krishna warmly for the winter months!
Pale Yellow Lace Stole for Hindu Deities
Particularly good for dressing Saraswati for Vasant Panchami in February, this lace stole is a pale yellow color.
Take this Ganesha shrine with you whenever you travel so you can offer a simple Puja no matter where you're traveling.
A mala made from hundreds of cotton petals sewn into flowers.
Vedic Prayer Cross Stitch Pattern
Instant download of a cross stitch pattern for the Asato Ma prayer (Lead me from the unreal to the real; Lead me from the darkness to the light; Lead me from death to immortality).
As far as I know, there is no other cross stitch pattern based on the letters of the Sanskrit alphabet.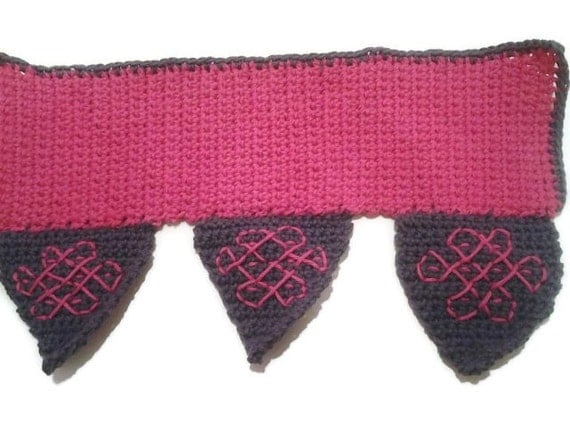 Indian Home Decor Toran with Kolam Designs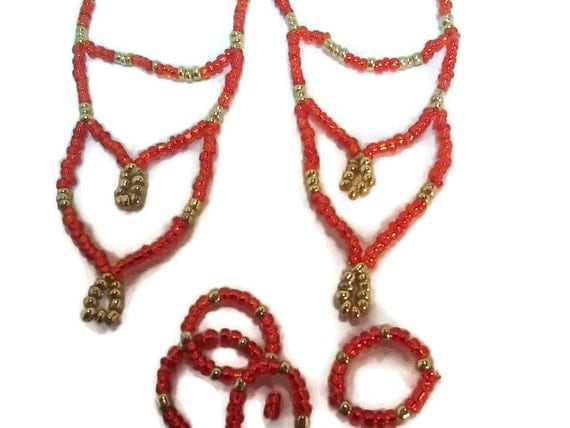 Deity Necklace and Bracelet Set
Krishna Deity Turban (custom size available)
Ribbon Flower Garlands (Set of two)