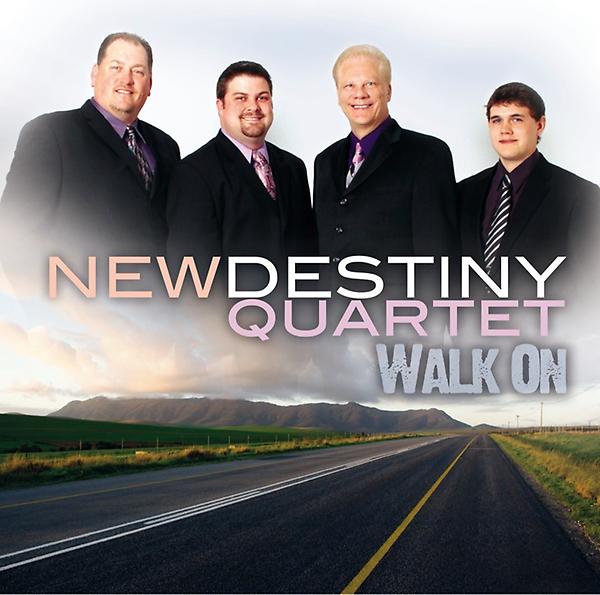 Some of you might know Brian Fuson from his southern gospel blog Fuson's Findings, but you may not know that  some time ago he joined a Michigan-based quartet called New Destiny. Not only is he now singing and traveling with the group, he also works as a southern gospel concert promoter in the Detroit area. Brian is one of this genre's most dedicated fans and promoters, and it's my privilege to review his own contribution to southern gospel music. Although it was released last October, I got my copy in spring this year and simply haven't gotten around to writing a review of it—until now. As it turns out, this is a good time to review it since their radio single "Testimony" was sent to various stations just last month.

Likes
*Brian's voice is the glue that holds the group's blend together—a rich, expansive baritone that might recall Jonathan Wilburn for some folks (except calmer!) My one complaint about it is that Fuson sounds a bit shy, like he's holding himself back from a wider range of vocal expression. If he put a little more soul into it, he could make an excellent lead singer.
*The song "
Testimony"
is the group's current radio single. It's an excellent choice, a tender ballad dedicated to all the prodigal sons and daughters in the world. The first verse is placed in the mouth of a preacher who's offering encouragement to a grieving mother. Lyrics, music and vocals come together perfectly on this one with a very touching performance by tenor Wes Van Wyk. Speaking of which…
*Wes Van Wyk is one of the clearest young tenors I've heard in a while. His tone reminds me of Soul'd Out's Dusty Barrett. While not a powerhouse tenor, he has a purity and fullness to his voice that makes it very easy to listen to and contributes mightily to the smoothness of the quartet's sound.
*I really like the choice to dig into CCM's back catalogue and pull out the overlooked tune "Walk On." It's not well-known and will be like new to most folks who hear it. This song has an excellent hook and works perfectly with quartet harmonies.
Dislikes
*The project felt somewhat padded out by covers. Do we really need 
another 
version of "Glory Road" or "My Tribute"? At the same time, I can understand the choice given that good new material is so hard to come by.
*Lead singer Doug Busam tries to bring a Michael English flair to big pieces like the aforementioned "My Tribute" and "These Are They," but it just doesn't work. His voice isn't substantial enough to give that singing style the "oomph" that it needs. Although it's more distinctive than Brian Fuson's, I can't help wondering whether it would improve the sound if Fuson switched to lead and Busam to baritone.
*This is not a knock on the group so much as the song, but I've always felt that "It's Almost Over" was like a poor man's mashup of "Redemption Draweth Nigh" and "Midnight Cry." It has elements of songs like those, yet lacks the punch. On the other hand, I probably would have criticized the group for doing yet another cover of "Midnight Cry" had they chosen that song instead! I might not have felt the same way about "Redemption Draweth Nigh" though. I'd actually like to hear them do that one.
*Bass singer Tom Durham's voice is comforting and perfect for creating a smooth blend when the whole group sings together, but his lower range is lacking. This is made apparent when he has a song to himself, like "Just a Touch Lord From You."
Final thoughts: 
This group is worth checking out. And if you won't take it from me, take it from Si of Duck Dynasty, who
recently attended
one of their concerts! There's fresh talent in Brian and young Wes, and a sound that makes you want to sit up and listen. At this point what they need most is more original material. But hopefully, their single "Testimony" will make an impression on southern gospel radio listeners. If you'd like to hear some samples from the album, check out the video below. You can also visit New Destiny's
Youtube channel
for some middling quality live performances (by which I mean video quality, not singing quality!)
CD Rating: 
3 stars
Available from:
iTunes
 and the group's
website.
Review copy provided. A positive review was not required.