In soccer (or football, as the non-American world stubbornly persists in calling it), there is a rule that states that an offensive player must have at least one defensive player between him and the goal (not including the goalie) when a pass is made. If an individual advances too far, too quickly, he is called offside, and play is momentarily suspended.
That's an ironic definition given recent news that director Jafar Panahi would be denied a visa to enter the United Sates and thus would not be traveling to New York City to attend a screening of his film, Offside, at the Museum of the Moving Image in Queens. Panahi, you see, is Iranian, and who knows what measure of mischief he might have manufactured at a Q&A for his film, set at a World Cup qualifying match in Iran and depicting the way in which the women of that nation are excluded from attendance at and participation in most public events.
Oh, I'm sorry did I say that he was denied a visa? I meant to say that his application process was delayed, a semantic distinction which will be of comfort to no one and should fool just about everybody who has never visited an American Embassy or asked the Department of State for a definitive answer to any question not involving the purchase of uranium in Nigeria.
I suppose the logical follow-up question is "who cares?" What difference does art, literature, or film make in a world beset with serious social, environmental, and political problems? What can art do to bring us together in a world of mutual distrust and even hate? Maybe more than we think.
My twenty-five year aversion to all things Iranian is rooted in images of burning flags and accounts of tortured diplomats. Its gradual abatement has come from the rare encounter with fugitives from that land who have struggled to preserve the best parts of their heritage in the face of exile from their own land and the cold shoulder they have so often received elsewhere. More often, though, the slackening of animosity has come from encounters with Iranians through art and literature—from the power the best art has to transcend the barriers of time and culture in order to engender true empathy for the other in whose shoes we momentarily walk.
I think, for example, of Panahi's 2000 film The Circle, an amazingly honest and simple film about the terror felt by women in the streets of Tehran who suddenly find themselves without a male escort or an identification card.
I remember also Azar Nafisi's Reading Lolita in Tehran, a book that came to me not that soon after I moved away from a Christian fundamentalist community whose members' attitudes towards those not of their exact brand of faith eerily resembled the ones Nafisi encountered in her own country. Some Iranians apparently took courage or solace or comfort from art. Nafisi wrote in one passage about how many moderate Iranians risked government censure to keep illegal satellite dishes as ties to the outside world.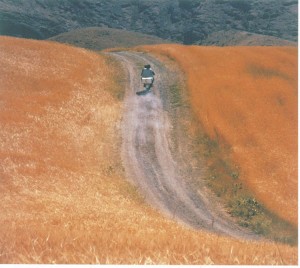 Abbas Kiarostami was directing films back when Iran still had diplomatic relations with the United States, and in the last ten years he has directed two films, The Wind Will Carry Us and A Taste of Cherry, that were voted by one Christian web site as among the 100 most spiritually significant films of all time.
Ben Kingsley's turn as Behrani, an exiled Iranian, in The House of Sand and Fog earned him a well deserved Oscar Nomination. The film, released by an American studio, helmed by a director born in the Ukraine, anchored by the British Kingsley and introducing Iranian actress Shohreh Aghdashloo to the cinematic world had as its climatic scene the prayer of a devout Muslim begging for the life of his son. It too reminded us that that the experiences that are central to the human experience are seldom limited to those of one nationality or creed.
After Offside screened at the 2006 Toronto International Film Festival, Panahi related a personal story that closely paralleled that of the film. He tried to take his daughter, a rabid soccer fan, to a game, only to have her denied admittance as he knew she would be. Even playing the fame card, telling the guard that he was an important director, was of little use. His daughter told him not to beg for her admittance; it was not becoming. Saddened, he left her at the gate, only to be met by her, inside the stadium a short time later. Passion—passion for the game, for the arts, for life—has resources that dull policy can't fathom. It finds a way to infiltrate the darkest spaces and the hardest hearts and bring joy and beauty to those places most in need of it.
Jafar Panahi will not be granted admittance to America to attend the screening of his film—a film that, if watched carefully, probes the costs of fundamentalism and celebrates the human drive to live a full and meaningful life in spite of the social or political barriers one encounters along the way. Our government—my government—needed a little more time to investigate whether or not he was a terrorist. Once it decides, if you still want to come to America, Mr. Panahi, you have an open invitation to visit North Carolina whenever you like. I would be honored to meet you, welcome you, and discuss your films.
And if the State Department needs help deciding whether or not Jafar Panahi is a threat to the security of the United States, I have a suggestion that might clarify matters somewhat: maybe Condoleeza Rice could watch his film.