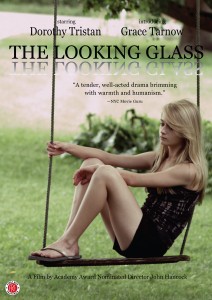 I hate to use the word "sweet" when describing a film. There's no way to make it not sound like a backhanded compliment.
But John D. Hancock's The Looking Glass is a sweet movie. It's not treacly, neither is it sentimental. It just has a quiet tone that allows its positive moments to linger, taking some of the sting out of its more painful plot developments.
The plot sounds like something you might see flipping channels on cable television: a troubled teen. Julie (Grace Tarnow),  is sent to Indiana to live with her grandmother (Dorothy Tristan). Grandma has a lot she wants to give and senses time may be running out, literally and figuratively, on her ability to pass along any of the lessons she's learned in life. For her part, Julie feels abandoned and punished. "What did I do wrong now?" seems like her most common refrain.
On a television arc each of the small conflicts between generations would be underscored twice and played at a higher volume. Hancock, working off a script from Tristan, lets the characters bend towards each other slowly. Eventually Julie tries out for a local theatrical production of The Alice Variations. Her father and stepmom come by for a visit and to check in on her.
I am old enough to remember Hancock's first feature film, Bang The Drum Slowly, which came on the heels of his Academy-nominated debut short. After that he mostly did television work. While the film does seem at times to have the choppiness of serial television (not much in the way of transitions, things just happen), the pacing of individual scenes is much more leisurely.  This is his second collaboration with Tristan, who makes her first on-screen appearance in over twenty-years.
Perhaps those are reasons why The Looking Glass feels like a bit of a throwback. It's old-school in its insistence on emphasizing character over plot . It has the look and feel of a passion project, and that's not a bad thing. Even people who work in Hollywood must struggle to carve out the time, interest, and money to tell smaller stories. The Looking Glass tells a modest tale, but it is a tale worth telling. Tristan doesn't have the name recognition of a Meryl Streep or a Helen Mirren, but her acting choices lay on a foundation of a life spent thinking about and making art. Tarnow is reminiscent of America Ferrara in Real Women Have Curves or Shailene Woodley in The Spectacular Now — good enough to make you confident you will see her again in bigger budget projects.
The Looking Glass is available from First Run Features on DVD beginning January 12, 2016. Given the paucity of good films for and about teen girls, it's definitely worth flagging if you are a parent always on the lookout for films in that category.