As my family and I prepared for our weekly podcast, we realized the prepared topic did not work. We were horrified with the events that took the life of George Floyd when in police custody in Minneapolis, Minnesota on May 25, 2020. That yet another black man lost his life to the brutality of those sworn to protect him.
Therefore, we scrapped our planned topic to speak to the problems of police brutality, lend our voices and support to the black and brown communities, and use what platform we have to support the Black Lives Matter protests sweeping this nation. Adding to the call of justice for George Floyd, Breona Taylor, David McAtee, Eric Garner, and too many others to list.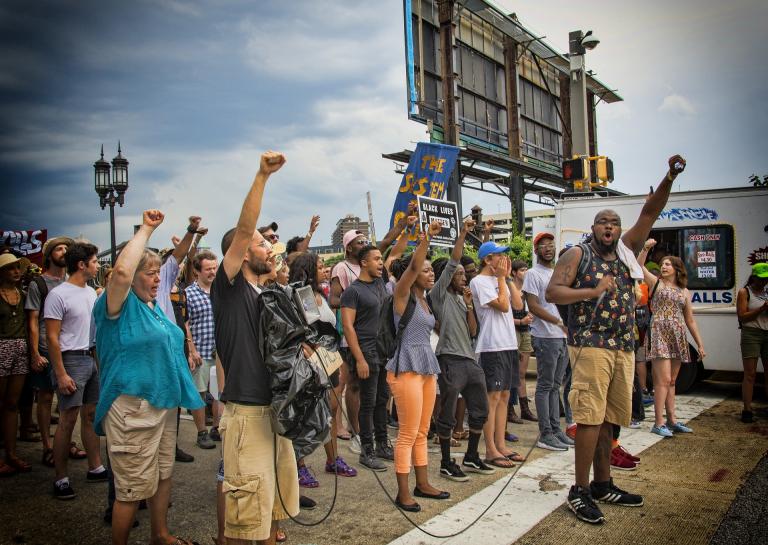 Protest: How Do We As White People Help?
Two hours before going live with the podcast recording, my family asked these questions:
Do we as a Pagan podcast need to address what is happening in our country. Is this issue "pagan or witchcraft" related?
The answer is a resounding yes because we have an obligation to stand with our black and brown magickal practitioners and Pagans, not to mention our friends and neighbors across the country.
Should we use our platform (such as it is) in a show of support for Black Lives Matter, justice for George Floyd and others, and the issues revolving around the protests?
Again, yes, we had to speak up. To call out law enforcement throughout this country that allows military tactics, weapons, and excessive use of force to go unchallenged within their midst. To call out the systemic racism of this country and the white privilege that we have and "use it" to stand with our black and brown neighbors.
In Protest: Episode 95 of 3 Pagans and a Cat, we talk about George Floyd and other black people murdered by police in the United States, good protest practices, and magical protection for resistance. Be aware, our podcast is rated "explicit" for language.
IMPORTANT UPDATE: ALL FOUR OFFICERS HAVE BEEN CHARGED
Derek Chauvin – 2nd-degree murder.
Other 3 former officers – Aiding/abetting 2nd-degree murder.
Also, here are links to the resources discussed:
Anti-Racism Resources
Resources for Accountability and Actions for Black Lives
Protest Safety Infographic
Learn from the Hong Kong Protestors
Magic for the Resistance
Teen Vogue's Guide for Filming Police