Mother Teresa is going to be Canonized on Sunday Morning at 4am Eastern. You can watch it live at CatholicTV. I just finished a conversation with Sr. Margaret Kerry (twitter, facebook, instagram) about her encounter with Blessed Teresa of Calcutta back in 1988.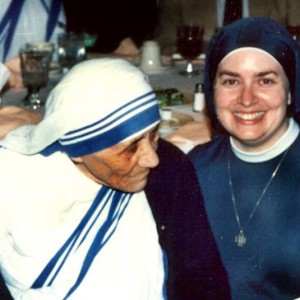 The above interview aired on Saturday September 3rd on the Breadbox Media App.
Of of the things that stood out to me was how Mother Teresa was intentionally present. Whether she was comforting the dying, or sitting at a dinner or speaking engagement, or writing one of her many letters, she was present to the people in front of her. Anyone who has lived a public life can attest to the difficulty of this task. For those few moments of time reading a letter and responding, her attention was focused solely on you. Here is a letter she sent to Sr. Margaret.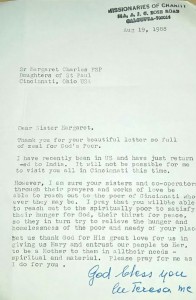 Herein lies one of the primary purposes of the Canonization process. Canonized Saints provide us an example of heroic virtue to strive for.
Yes, all the saints in Heaven pray for us. They are the great cloud of witnesses about which the writer of Hebrews wrote. But ALL the saints in Heaven comprise the "Church Triumphant," all the saints intercede for us, not just the Canonized Saints.
Canonized Saints are a gift to us from the Church. These flawed human beings show us the depths of God's grace, and the transformative power of the Holy Spirit, who isn't content to just forgive our sins, or overlook our faults, but who is determined to complete the work of holiness in us!
So as the Church gives us St. Teresa of Calcutta on Sunday, let us strive to be present in every moment to every person whom we encounter. Let us remember what (and who) is really important, and focus on them.