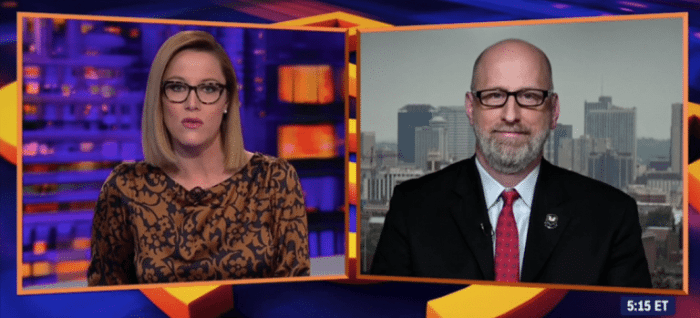 Believe it or not, there is an evidence-based process for temporarily denying a troubled person access to guns.  CNN's S.E. Cupp asked National Review's David French to discuss it.
National Review's @DavidAFrench joins @secupp to discuss a gun control measure he thinks conservatives should consider. https://t.co/9TTrOVwMMl

— SE Cupp Unfiltered (@UnfilteredSE) February 20, 2018
In his original piece, French writes about the discrepancy between liberals and conservatives on the topic of guns and the 2nd Amendment:
Among conservatives, there is the broad belief that the right to own a weapon for self-defense is every bit as inherent and unalienable as the right to speak freely or practice your religion. It's a co-equal liberty in the Bill of Rights, grounded not just in the minds of the Founders but in natural law.

Against this backdrop, most forms of gun control proposed after each mass killing represent a collective punishment. The rights of the law-abiding are restricted with no real evidence that these alleged "common sense" reforms will prevent future tragedies in any meaningful way.

Many progressives, however, simply don't care about restrictions on gun ownership. They don't view it as an individual right, much less an unalienable one. To them, the Second Amendment is an embarrassment, an American quirk that should be limited and confined as much as possible. To them, gun ownership is a privilege, not a right, and can be heavily regulated and restricted without doing any violence at all to individual liberty.
He proposed a solution that might actually satisfy both sides:
What if, however, there was an evidence-based process for temporarily denying a troubled person access to guns? What if this process empowered family members and others close to a potential shooter, allowing them to "do something" after they "see something" and "say something"? I've written that the best line of defense against mass shootings is an empowered, vigilant citizenry. There is a method that has the potential to empower citizens even more, when it's carefully and properly implemented.

It's called a gun-violence restraining order, or GVRO.

While there are various versions of these laws working their way through the states (California passed a GVRO statute in 2014, and it went into effect in 2016), broadly speaking they permit a spouse, parent, sibling, or person living with a troubled individual to petition a court for an order enabling law enforcement to temporarily take that individual's guns right away. A well-crafted GVRO should contain the following elements ("petitioners" are those who seek the order, "the respondent" is its subject).
Click through to read more about the possible solution.
Image Credit: Screen Cap