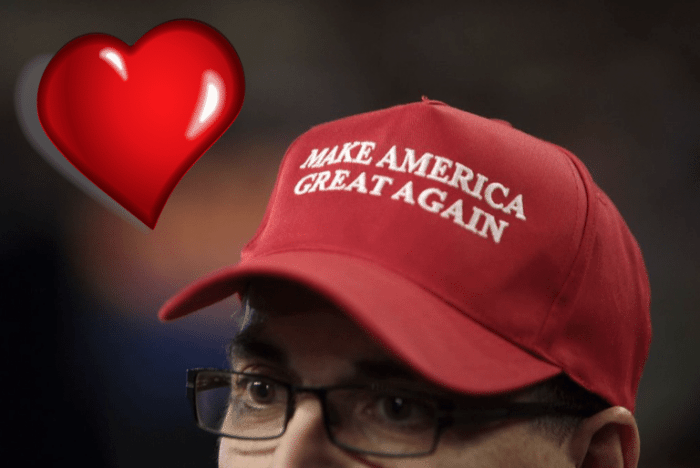 A new dating website to help Donald Trump supporters find each other encourages users to "Find The America First Partner Of Your Dreams." Yes, really. It reads:
Dating in 2018 is more of a challenge than ever before, thanks in part to today's polarizing political landscape. While searching for a potential partner on other dating sites, it's not uncommon to see messages like No Trump supporters or Proud liberal. We're wrecking the dating game and giving like-minded Americans a chance to meet without the awkwardness that comes with the first conversation about politics. Wouldn't it be refreshing to already know that your date roots for the same team?
The site also goes on the explain that dating people with whom you share values is a very good idea:
We believe that by matching patriotic and political viewpoints as a base foundation of the relationship, it will allow one to focus on what really matters — conversation, commonalities, and if all goes well, courting. Being with someone who shares the same core standards is absolutely essential if you're truly searching for a real, life-changing relationship and we have a feeling that if you're on this site, that's exactly what you're looking for. So, what are you waiting for?
As people on Twitter have pointed out, this service is only for heterosexuals.
There is a website called https://t.co/W3oGk7I9zc, and you have to be straight to use it: pic.twitter.com/hZGiZihHYE

— Tim Mak (@timkmak) February 17, 2018
However, you can be married to sign up. The Guardian's Arwa Mahdawi joined the site and reported, "At first you could stipulate if you were "happily" or "unhappily" married, but they appear to have removed those options due to all the bad press. Meanwhile, one of the activists used as a face of the website was revealed by reporters in North Carolina to have a conviction for "indecent liberties with a child"." They promptly removed his image from the site.
Regardless, will America-loving Trump supporters find true love through this site? It costs $16.99 per month to find out.
Hat Tip: The Guardian and Trumpdating.com
Image Credit: By Gage Skidmore from Peoria, AZ, United States of America (Make America Great Again hat) [CC BY-SA 2.0 (https://creativecommons.org/licenses/by-sa/2.0)], via Wikimedia Commons and MaxPexel