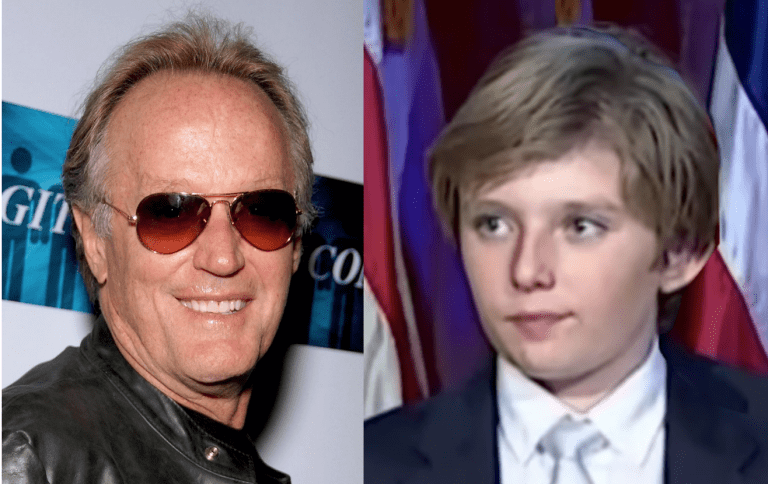 Peter Fonda was up late at night doing what no one should do after midnight: post on Twitter. In a tweet composed with all capital letters, he suggested Barron Trump, the 12-year-old son of President Donald and First Lady Melania Trump, should be taken from "his mother's arms and put in a cage with pedophiles." This tweet was in reference to Trump's immigration policy of taking children from their parents on the U.S.-Mexico border.
In a since-deleted tweet, he wrote:
"We should rip Barron Trump from his mother's arms and put him in a cage with pedophiles and see if mother will will stand up against the giant a–hole she is married to. 90 million people in the streets on the same weekend in the country. F—."
In another tweet, Fonda suggested Americans should find out the addresses of federal border agents and "surround their homes in protest." Oh, but he wanted to target their kids, too. "We should find out what schools their children go to and surround the schools in protest."
Peter is an Oscar nominated actor who happens to be the brother of super liberal Jane Fonda and son of Hollywood legend Henry Fonda.
Obviously, this tweet upset the First Lady. Her spokesperson, Stephanie Grisham, said: "The tweet is sick and irresponsible." She also revealed the U.S. Secret Service was notified. This got Fonda's attention.
His apology came right after, according to the New York Post's Page Six:
"I tweeted something highly inappropriate and vulgar about the president and his family in response to the devastating images I was seeing on television," Fonda said in the statement, released by both his manager and his publicist. "Like many Americans, I am very impassioned and distraught over the situation with children separated from their families at the border, but I went way too far. It was wrong and I should not have done it. I immediately regretted it and sincerely apologize to the family for what I said and any hurt my words have caused."
Donald Trump Jr. said that Fonda was "clearly a sick individual," "a bully" and a "coward."
IMAGE CREDIT: Photo by Glenn Francis of www.PacificProDigital.com [CC BY-SA 3.0 (https://creativecommons.org/licenses/by-sa/3.0) or GFDL (http://www.gnu.org/copyleft/fdl.html)], via Wikimedia Commons and Wikipedia Commons