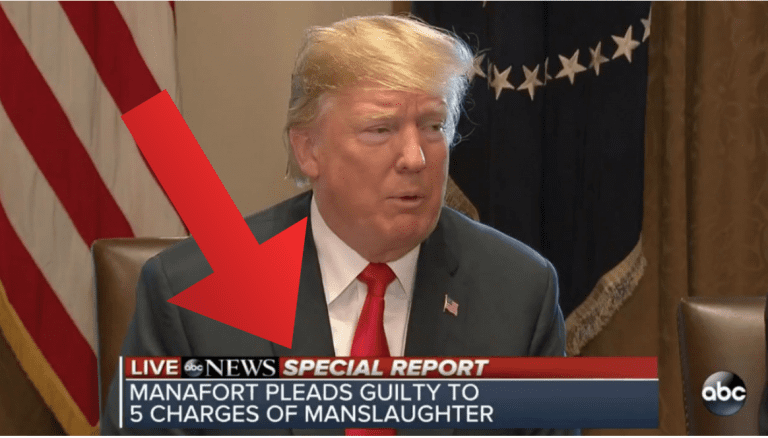 Former Trump campaign manager Paul Manafort just can't catch a break. In October, he was indicted on charges that ranged from working as an unregistered foreign agent to potential money laundering. After a brief house arrest, he was placed in solitary confinement in prison. Officials say this is for his own protection. However, others aren't buying it, claiming this is cruel and unusual punishment. Former Trump lawyer John Dowd explained, "Paul is in solitary confinement for his own safety from the general prison population. The warden is concerned that someone would violently attack Paul just for street cred. They make all prisoners return to their cells whenever Paul needs to leave his cell."
To add insult to injury, ABC News ran an incorrect chyron — the little words that run along the bottom of a screen during a live special report. Under the image of Donald Trump, for a few seconds, these words appeared:
Manafort Pleads Guilty to 5 Charges of Manslaughter
Well, that will get your attention. As viewers watched to see what other details would come next, the words disappeared.
Later, ABC tweeted, "Statement from @ABC News: We regret and apologize for the false lower third graphic that aired during our special report. We are investigating how incorrect information was in our system and how and why it was allowed to air. (1/2)"
Followed by, "(cont.) We apologize to our viewers and to Mr. Manafort. There simply is no excuse for this sort of mistake. (2/2)"
A mistake? That's a really bad mistake. Not to mention specific. How on earth could a news agency "accidentally" insinuate that a man just admitted to killing a bunch of people? Also, have you EVER seen a liberal maligned in such a way?
Also, is the tweet a sufficient fix to this grave error? You would have to assume that 99% of the people who saw this on television wouldn't see it "corrected" online in a relatively small social media site.
Here's the truth of the matter: the mainstream media likes to pretend that it is above the fray, that it's not as bad as President Donald Trump accuses them of being. However, is ABC's "mistake" is any indication, this #FakeNews hashtag is not going away anytime soon.
Hat Tip: Mediaite
Image Credit: Screen Cap