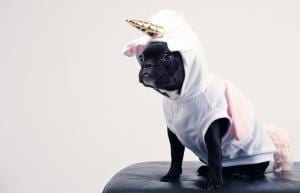 It's important that I let you in on a secret right away – I don't belong here. It's likely that I'm bad at whatever it is that Pagan author types are supposed to be doing; and I'm still pretty convinced that I'm in one of those sitcom type 'wrong place right time' stories. As a first time author, who stumbled ass backwards into a book contract and finds themselves here on Patheos I expect that at any moment someone will realize they've made a critical error and allowed a pretender into the inner sanctum as they clutch their BNP pearls (amber and jet?).
Curriculum Vitae – the Course of Life
Blog intro posts have always felt an awful lot like a resume to me, and it just wouldn't be fair to you if I attempted to streamline some kind of slick social media perfect image of myself because it just wouldn't be honest. I'm not a product, and I'm never going to be any one thing all the time. Surely I'd disappoint you if I tried.
So who am I under this mask?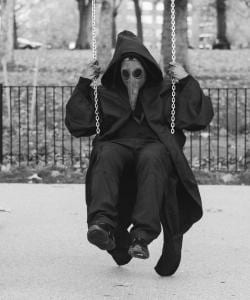 My home is 800 square feet of love and stubborn independence that my grandmother built during WWII, resting on three acres in the beautiful mountains of North Carolina. It's been my great joy to be married to my best friend, have twin two year olds, an adult child, and many domestic and wild creatures (living and dead) that come and go in my life. I garden when I can, love cooking, and often wax poetic about domestic life. I've got more childhood trauma than you can adequately shake a stick at. I've never been to grade school, but I have four college degrees. I'm an artist, a Mortician, and I practice necromancy (gasp!). I'm poly, non-binary, bi-sexual, and like any good impostor my life is a series of costumes. Combat boots and 90's flannel, lab coat and scrubs, a crisp black funeral suit, ritual robes, an apron over a tee shirt and well worn jeans.
As an impostor, I know it's important that I recognize the fleeting gift that any unearned platform is before I'm found out. My hope is that I use it if not well, then at least honestly and vulnerably. I'll share with you my passions, my joys (and sadness), give you a picture of my day to day, and I probably won't write as often as I imagine I will. There will be days where I regret posts that I made, wish I'd edited better, eaten breakfast before writing, waited until I wasn't angry/tired/sad – but that's life, and we don't really get do-overs on that either.
Bear with me, I think is what I'm saying, I'm new at this – I don't belong.