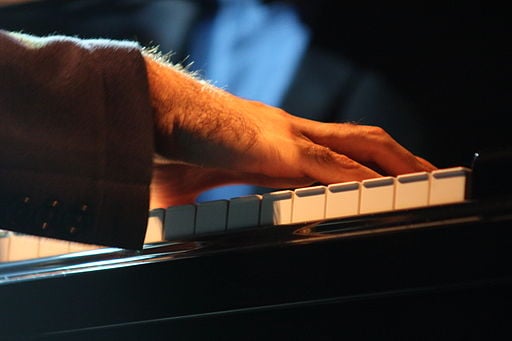 I confess I had never heard of Leslie Lemke. There aren't enough adjectives to describe his incredible life, nor of the heroism displayed by his adoptive mom, May.
From Wisconsin Medical Society, written by Dr. Darrold Treffert:
[…]

The story of Leslie Lemke begins in Milwaukee in 1952. His mother gave him up for adoption at birth. As a complication of his premature birth, Leslie developed retinal problems, then glaucoma, and his eyes had to be surgically removed in the first months of life. There was also brain damage, and Leslie was extremely ill. The county asked May Lemke, a nurse-governess who they knew and trusted, if she would take Leslie into her receiving home, ill as he was and carrying such a dire prognosis. That didn't deter May. At age 52, and having raised five children of her own, May Lemke said she would. And she did.

In a modest cottage on Lake Pewaukee where she lived with her husband, Joe, May loved and tended to Leslie like a frail little flower. She taught him how to swallow so he could eat and how to make sounds so he could communicate. When he was able, May literally strapped his fragile body to hers to teach him how, a step at a time, to walk. She put his hands over hers as she played simple tunes on a piano she got for him. And she sang to him.

Leslie was intrigued with music and rhythm as a child. Once he was found under the bed strumming the springs in a wondrous tune. He also had a remarkable memory and would often repeat verbatim, intonations and all, a whole day's conversation he had overheard from whomever he might be visiting. Leslie played and sang often, but mostly the simple tunes May sang or popular songs from the radio. May wasn't into classical music.

But one evening when Leslie was about age 14, Joe and May watched, and Leslie listened, to a television Sunday Night Movie. In the early morning hours May heard music. She thought Joe had left the television on. She went to turn it off and there was Leslie, playing flawlessly from beginning to end, having heard it but once, tchaikovsky's Piano Concerto No. 1, which was the theme song for that movie. God's miracle, May said, came into full bloom that night.

As a way of sharing God's gift of Leslie's music, May began having Leslie play some concerts at the county fair, in churches, and at schools. In June 1980 Leslie gave a concert in Fond du Lac, Wisconsin. Amazed by what they had seen — a young blind man, mentally handicapped, with cerebral palsy, and never having had a music lesson in his life playing what seemed like a limitless repertoire and repeating flawlessly whatever was played to him after a single hearing — a local television station brought tapes to me, as the local mental health authority, to see if there was some explanation for this astonishing ability. I explained that this was truly extraordinary, very rare circumstance called the savant syndrome — islands of genius in an otherwise severely mentally handicapped person. This was a condition I was familiar with and had become interested in when running a Children's Unit in a hospital in Wisconsin.

[…]

In the 1980s, May's health began to fail with Alzheimer's disease. May had vowed that Leslie would never be institutionalized, and he never was. May's youngest daughter, Mary, took both May and Leslie into her home in 1984 as May's Alzheimer's progressed. For a time May lived with her other daughter, Pat. But after Daddy Joe's death in 1987, May returned to Mary's home to be near Leslie. Mary vowed that her mother would never be in a nursing home, and she wasn't. As May's memory faded, it was only Leslie and his music that could bring those memories to life. "That's my boy," May would say as they sang together. Then when the music stopped, May would fade to silence once again. Just as she had brought Leslie to life, Leslie could bring her to life — a touching payback of sorts. May died at Mary's home on November 6, 1993.
And to think there are many people in the world who believe the elderly, the mentally handicapped, and the severely disabled have nothing to offer the world, or aren't worth being loved or cared for. Such people are clueless about the true meaning of love, and are missing out on its wonders and joys.
Photo credit: Oliver Abels [Creative Commons] via Wikimedia