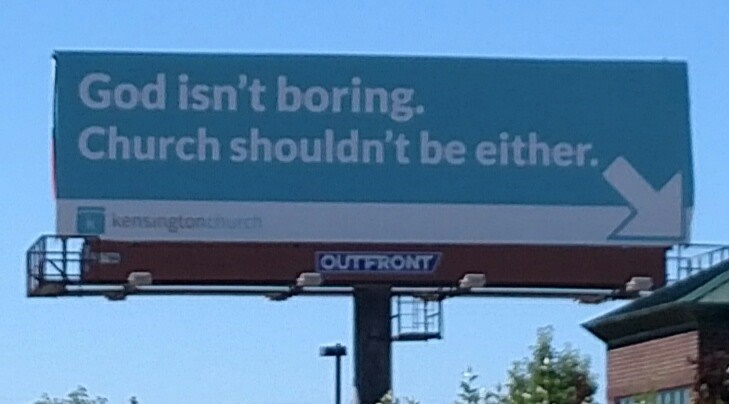 I drive by this billboard – I guess it could be called a billbored – every day. It stands above a Rock n' Roll Bible School non-denominational place of worship. I'd laugh if God would zap it with a bolt of lightning and have it fall through the building's roof, and then say, "Heh. See what I did there?"
Cos as we all know, God's all about excitement and entertainment. So is Jesus. I forget the chapter and verse, but remember when Jesus said "Come to me all you who labor, and I will entertain you, because hey, I'm not boring"? Then there was the time he fed 5,000 men with a handful of loaves and fishes, and afterwards, when the disciples came back with twelve baskets full, Jesus said. "BOOM! How's that for not boring?" And the early Church – they evangelized the Jews with slick marketing slogans, like "God isn't boring. Temple worship shouldn't be either."
If Jesus had preached like this, Christianity would have died out a long, long time ago. If the point is to avoid boredom, then there are countless more exciting things I or you or anybody else can do on a Sunday than go to Church. But if the point is to become holy, to transcend the mundane, to worship God on His terms and not our own – which is the point, by the way – then yeah, get to Mass. Become a disciple. Follow Christ. Evangelize.
You'll soon see that belief is so much more than a solipsistic "God isn't boring."
God becomes Everything.