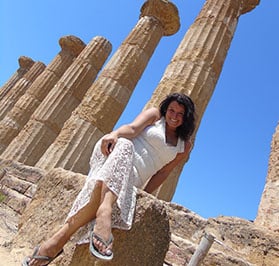 Welcome to my new blog Adamantine Muse.
I chose to write on Patheos because I have a passion for spirituality and religious tradition, and for the diversity within them, and Patheos' approach fits mine perfectly. I also wanted a new challenge for the next phase of my Work. Having spent nearly a year travelling with my autistic son and Buddhist partner, visiting some of the most amazing spiritual and religious places in the world, I also have a lot of interesting stories (and photographs!) to share. I chose the name Adamantine Muse for this blog because it encapsulates what I hope to achieve by sharing some of my work here.
Adamantine originates with the Greek word αδαμαστος, meaning untameable. The term was used to describe an unbreakable, hard metal or stone, in the way a diamond is thought of today. In Greek mythology, adamantine objects are given supernatural and crucial functions. So for example, the Titan goddess Gaia gives her son Kronos an adamantine sickle, which he uses to castrate his father, Uranus, and through this to become the leader of the Gods. Likewise, it is an adamantine sickle (sometimes said to be a sword) used by Perseus to decapitate the serpent-haired Gorgon Medusa. In Milton's Paradise Lost Satan is cast into hell, to "To bottomless perdition, there to dwell In adamantine chains and penal fire".
Muse can be the action of saying something in a careful or thoughtful way, and of course the Muses, those mythical beings who inspired both Gods and mortals. It is my hope that my ability to muse will continue to develop as I share my thoughts, research and work here – and that through my words here I will inspire readers to action – whether they agree or disagree with me.
It is an honour to be joining Patheos as a writer, and I am very excited at making this small start. In the coming weeks and months, I will be sharing from different facets of my work – past, present and future. I will be sharing some insights into some of the amazing places we visited during a year of adventures visiting some of the world's most impressive modern and ancient pilgrimage sites in South America, Europe, and Asia. My profile picture, which also features on my blog banner, is of me at the Temple of Zeus in the Valley of the Temples, in Agrigento in August 2015 – this enormous archaeological site in Sicily (Italy) is the largest in Europe and contains some of the best-preserved Greek Doric temples, as well as many other marvels.
If you are interested in the work I have previously produced, you will find a list of books and publications I have contributed to on my personal website, http://sorita.co.uk/books.