I am fundraising.  This is not something I have much experience of, nor something I am usually comfortable doing.  Asking for money is not an easy thing to do.  But this is for something truly special and unique – so I hope you will look past my amateurish approach, and help if you can. See > for Orpheus, Donate to help build a Temple
I have a friend. He has dedicated his life to the study of the old religions of his country, the folklore and the Mystery traditions. He has done this both as a Priest and as an academic – in practice and in theory. With others he founded a flourishing traditional religious community in Bulgaria and raised the money to purchase land and build a small dwelling on it over the last few years. This part of the project is now nearly completed and they really want to progress towards completing the final part of their dream : To build a small (private), traditional temple based on that found in the local region. A temple that Orpheus himself would be proud of and inspired by.

However, as with all things they need money. €5000 will realise this dream for them.  5000€ is a huge amount of money in Bulgaria where average wages are a fraction of what they are in other parts of Europe, so when my friend spoke to me about the project – I decided to speak up and ask the rest of the Pagan community – especially those with a love of Hekate and Dionysos, and the Orphic Mysteries – to help. 

I was fortunate to visit the site and the region a year or two ago, and saw the project unfolding. I have also seen the drawings for the temple, and have no doubt about the integrity of the group leader or the members I met to make this something really special.

For a variety of reasons I am unable to disclose more information about the project here. However, I can be contacted privately for more information and am able to put donors who wish to be, in touch with the community who is open to such contact.
Please donate, if you can – 
https://www.justgiving.com/crowdfunding/for-orpheus 
And whether or not you are able to donate, please share the link.
[According to
JustGiving
even a share is worth an average £10 in potential donations!]
All funds raised will go directly to this project.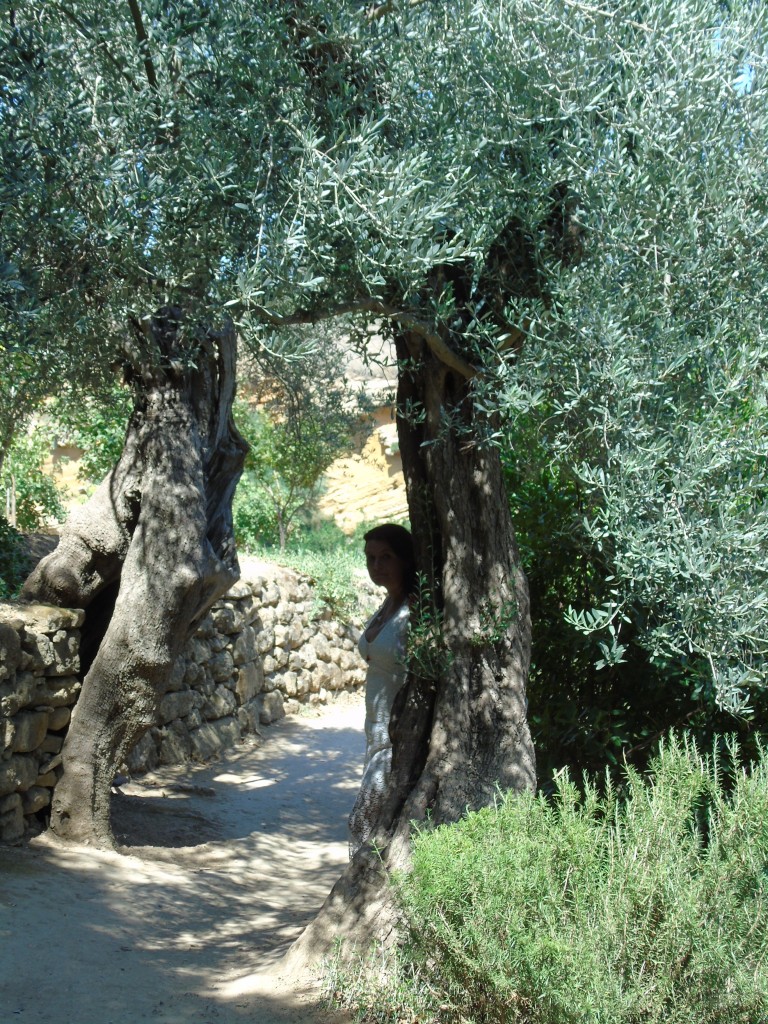 The above photo of me was taken in Agrigento, in the Valley of the Temples (Sicily).  Not far from these trees I recited The Orphic Hymn to the Mother of the Gods.  I leave you with that here, as it feels like an appropriate hymn for this appeal!
TO THE MOTHER OF THE GODS.
(Trans. Taylor)
Mother of Gods, great nurse of all, draw near,
Divinely honor'd, and regard my pray'r:
Thron'd on a car, by lions drawn along,
By bull-destroying lions, swift and strong,
Thou sway'st the sceptre of the pole divine,
And the world's middle seat, much-fam'd, is thine.
Hence earth is thine, and needy mortals share
Their constant food, from thy protecting care:
From thee at first both Gods and men arose;
From thee, the sea and ev'ry river flows.
Vesta, and source of good, thy name we find
To mortal men rejoicing to be kind;
For ev'ry good to give, thy soul delights;
Come, mighty pow'r, propitious to our rites,

All-taming, blessed, Phrygian saviour, come,
Saturn's great queen, rejoicing in the drums
Celestial, ancient, life-supporting maid,
Fanatic Goddess, give thy suppliant aid;
With joyful aspect on our incense shine,
And, pleas'd, accept the sacrifice divine.