I am both delighted and relieved to finally be able to announce that Circle for Hekate – Volume I: History & Mythology is being released this December. It took me much longer to complete this project, but I believe that the extra time was worth it. Instead of being one small volume with basic practices, I developed the project into several volumes, each of which can be read as standalone texts, or used together as a study course. Volume I, as the subtitle suggests, is focussed on the history and mythology of the goddess Hekate.
It is different from Hekate: Liminal Rites (2009) which I co-authored with David Rankine in that it explores the evidence for the Goddess of the Crossroads' worship, as well as the myths and legends associated with her at different times in history, through her genealogy, symbols, goddesses she was syncretised with, places of worship and iconography. Liminal Rites is primarily concerned with the historical practices and rituals associated with Hekate instead. There is some inevitable repetition, but I tried to avoid this as much as possible.
By looking at Hekate's history from a different perspective, I uncovered and also gained new insights and understandings along the way, which I have found invaluable in my own practices. I hope it will do the same for readers, and inspire a new generation of people to look deeper and further for information on a goddess who have been standing torches ablaze in the shadows waiting to enlighten pathways for seekers.
Subsequent volumes in the series will present rituals, contemplations, meditations and devotional practices based on my own work since 2000.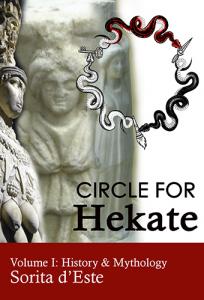 The Circle for Hekate project is a series of books dedicated to the light-bearing Goddess of the crossroads in all her many faces, manifestations, and names.
Volume I, Circle for Hekate: History & Mythology, draws together in-depth scholarly research from a wide range of sources, highlighting the manifold and universal nature of this extraordinary goddess.
Volume II: Devotion is due for release in March.