I met Momma White Cougar when I lived in London sometime in the very early 00s when we were both members of a vibrant Fellowship of Isis group in central London. We met weekly and explored the mysteries of different goddesses, through exploring a little of the history of each Goddess followed by devotional ritual and oracles. Momma White Cougar was always one of the more silent people during group discussions. That was until the week came for us to explore the Orixa Yemanja (in the Goddess movement they name Yemanja a Goddess) that I finally heard the power in Momma White Cougar's voice boom out as she burst into a (very unexpected!) rap she wrote for Yemanja! The words of MommaWhiteCougar's Yemanja rap is included in this interview, but it does not adequately convey the power she performed it with – Salt 'n Pepa eat your heart out!!
I asked her to be part of this series of interviews because she encouraged and supported me in ways that she might not even be fully aware of over the years. Sometimes it is the little things that matter most, the little things which perhaps we should honour that little bit more.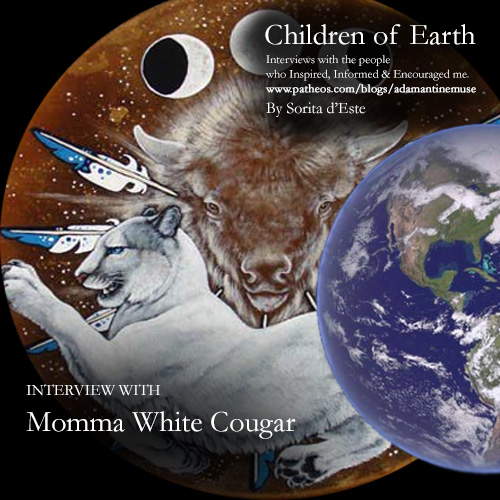 Sorita d'Este interviews Momma White Cougar
Children of Earth: People who Inspired, Informed or Encouraged me.
Sorita d'Este – We first met nearly 20 years ago when we both attended a Fellowship of Isis group which met in Bloomsbury (London) on a weekly basis. When did your own journey with the Pagan and Goddess traditions begin?
Momma White Cougar – I lived on my Grandfather's farm in the Missouri Ozarks as a child. He believed that God was everywhere, not found in a brick and wood building on Sundays only and then ignored for the rest of the week. He saw the Divine everywhere and looking back; he was very Pagan in his views. My mother was a witch, although very much in the broom closet I'm sure. She had a Spirit that gave her apports of small coins and a phantom cat was with her for years.
Growing up in this atmosphere opened me to Paganism, but I did not find the Goddess until I came to the UK with a production of Peer Gynt in 1967. It was as if I had come home, and I resonated with this land. But it wasn't until 1984 when I was able to emigrate here that I found my first personal Goddess, Sekhmet. I know it sounds like a contradiction because She is Egyptian, but you don't choose a Goddess, SHE CHOOSES YOU. I attended the Beltane Bash in 1995, and that's where I really found so many friends and colleagues. It led to my work to become a Priestess in The Fellowship of Isis. My primary Goddesses are Elen, Sekhmet, and Hekate (they are my Maiden, Mother, Crone). I am also a Devotee of Lord Ganesha. I also have a soft spot in the corner of my heart for a lesser-known Egyptian God, Bes.
Sorita d'Este – You are the author of The Sacred Wheel, which is an exploration of the Pagan Wheel of the Year, including many of your own personal recollections along the way. The book was a Wiccan bestseller for quite some time on Amazon after it was released, congratulations! What inspired you to write this book?
Momma White Cougar – Quite frankly, I was at a loose end when I was forced to retire the day I turned 65. I had so much time on my hands, and I remembered how difficult it had been for me to find basic, non-judgmental information on basic Pagan things like crystals, colours, the Wheel of the Year, and the Deities and Ceremonies to celebrate them. And so I wrote the book as if I was just talking to someone. It still sells a copy or two a month seven years later!
Sorita d'Este – The Wheel of the Year, marking the seasonal changes in the world around us, is easy to observe if you live in the countryside. How do you, as someone living in a large city, connect with the seasons?
Momma White Cougar – I suppose that I am more fortunate than many because the Sheltered Housing Complex that I now live in is a true Urban Oasis. We have a small pond with goldfish and two ducks as well as trees that flower in the Spring. I also have a teeny patio and flower border so there is an outside space where I can conduct discreet Solitary Rituals and charge my crystals etc. But even in the heart of any city, there are parks and green spaces to see the Turning of the Wheel. All you have to do is look.
Sorita d'Este – You yourself have lived in more than one part of the world over the years. There is a lot of debate today about the need to adapt the seasonal festivals to match the agricultural landscape you live in vs. keeping to the tradition of marking it with the 8-Sabbat festivals of the Wiccan Wheel of the Year. Likewise there are all kinds of complex debates about how one should adapt the seasonal festivals if you live nearer the equator (where the seasonal changes are often not noticeable) or in the Southern Hemisphere, where the seasons are reversed. What advice would you give to someone living somewhere the climate is significantly different from that of the UK?
Momma White Cougar – That's a toughie. My dearest friend, also a Pagan, is in New Zealand. Moonbear's year is about to see the Winter Solstice. He follows the seasons there and will shortly celebrate Yule. Personally, I don't think the Divine cares one way or the other. The important thing is to honour your Goddesses and Gods in a way that suits you because they are as much a part of you as you are of them. They are pleased to be remembered, whatever the season. This is my opinion, not wanting to start a huge debate!
Sorita d'Este – My fondest memory of you is when you did your "Yemanja Rap" during a ceremony when the group we were in were exploring Yemanja. The skill you executed it with revealed that you were a trained actor! Do you feel that there is a relationship between acting and ritual?
Momma White Cougar – I think there is a relationship between acting and ritual, and always has been. The earliest Shamans took on the guise of animals and Spirits to illustrate their view of Divinity. But acting is believing, like the Stanislavski Method. You must BELIEVE what you do in ritual. I was indeed an actor for years, but if what is done, even by a skilled actor is not the truth, it becomes apparent at once. Conversely, someone with no acting experience can be brilliant in ritual because of their simplicity and honesty.
Sorita d'Este – Would you be willing to share one of your poems with readers?
Momma White Cougar – Do you want the Yemaya Rap?
Sha ho shabbomboom ho!
Sha ho shabboomboom ho!
The beat of Yemaya comes from the sea.
The beat of Yemaya is in you and me.
Sha ho shabboomboom ho!
Ho! shh shhh shhh!
Ho! Shh shhh shhh!
The beat of Yemaya comes from the heart.
The beat of Yemaya was there at the start
When a wiggly girl amoeba decided to split,
And said to herself, "Girl, you are it!"
So she morphed to a fishy in a salty sea
And already she knew, "Yemaya's in me!"
Then she looked at the sky and longed for the Sun,
Grew her some legs and she started to run.
From four legs to two legs she was feeling so fine.
She knows Yemaya loves her and ain't that Divine!
The beat of Yemaya comes from the sea.
The beat of Yemaya is in you and me!
Sha ho shabboomboom ho!
Sha ho shabboomboom ho!
Sha ho shabboomboom ho!
Ho shh shh shh!
Ho shh shh shh!
Ho shh shh shh!
Ho.
Sorita d'Este – You also contributed a short devotional piece to Hekate: Her Sacred Fires, the anthology I edited in 2010. In it around 50 people share their experiences and thoughts about the Goddess of the Crossroads Hekate. I know you have a close relationship with Hekate too. Why is she important to you?
Momma White Cougar – As the Goddess of Crossroads, I can always meditate on Her whenever I have a problem or a difficult decision to make. She helps me find the best Path. I recently wrote this as an I am having to come to terms with changes in my life due to age and health issues:
Even a Crone faces Crossroads.

The way ahead may not be clearly marked.

But I have to decide now:

Continue as I am or accept an untraveled path.

I am still a Maiden in my heart.

Many see me as a Mother

Who nurtures with her Heartsongs.

The world only sees the Crone that I have become.

How can I be all three?

Every day I am faced with choices brought on by age.

Everything takes longer.

Everyone expects me to always smile.

I know I have to walk this new Path

My life is changing in ways I cannot control.

No matter, I know that in my heart

I will always be MommaWhiteCougar.
Sorita d'Este – The internet has changed the way we all interact with one another. This has had a marked effect on the Pagan community too – in the past we were all part of small localised communities (if we were lucky!), but now we are part of a very diverse global Pagan scene connected through the internet. What effect, if any, do you feel this has had on your own personal understanding of the Goddess and Magic?
Momma White Cougar – It has opened me to just how diverse, and yet how similar we are. We are all seeking to have a meaningful relationship with the Divine. The way some seek to find the Goddess or the God is not for me, but that doesn't make them wrong, or me right either for that matter. It can be very confusing, amusing, and annoying. But ultimately I have learned so much more through the internet, and although I don't usually mention this, I am completely housebound now, and without the internet, I would be even more of an Urban Hermit than I choose to be!
Sorita d'Este – What do you feel you have learned in the years you have explored Paganism which you feel is important to pass on to the next generation?
Momma White Cougar – There is no single right Path. Don't ever let anyone tell you that their way is the only way. The Goddess will find you if you trust and open your heart and mind. Talk to people. Read books. Form your own opinions. If you are Blessed to find a group of like-minded people, cherish them. But if you choose to stand alone, That's okay too.
Trivialities
Your favourite book of all time? Strangely, it isn't anything to do with Paganism or Magic. It's A Tree Grows In Brooklyn, by Betty Smith. I was given it for my twelfth birthday waaaay back in 1957. The story of a girl growing to womanhood in the slums of Brooklyn at the turn of the twentieth century resonated with me and I have reread it countless times.
Your favourite character from history? Boudicca.
Your favourite element? Earth
Your favourite food? I'm neither a Vegan or Vegetarian, although I understand why many Pagans are. Favourite food? Pizza, no wait, paella. Or maybe rice with tomatoes and onions, no rice with tuna and peas. Nope it's gotta be sushi…or coffee icecream. Nope it's definitely pasta with lotsa parmesan cheese. Sorry, I like food, which is why I closely resemble the Venus of Willendorf.
Your favourite number? Three
Your favourite planet? The Earth. We gotta love it, Gaia is the only home we have.
Your favourite plant? Rowan trees, but I have a Century Plant in memory of my mother that is very special to me.
Your favourite stone? Blue obsidian
Your favourite Tarot / Oracle deck? The Gaian Tarot by Joanna Powell Colbert
Your sunsign? On the cusp of Sagittarius and Capricorn.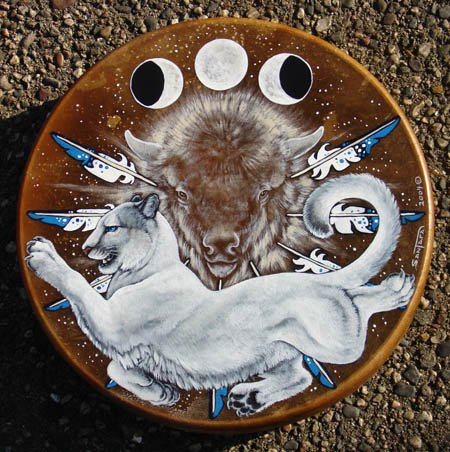 About Momma White Cougar
Momma White Cougar was born in Chicago and moved when she was aged nine to her grandfather's farm in the Missouri Ozarks. She lived in the Ozarks until the end of her second year of university, when she moved back to Chicago to work as an actress, performing in musicals, theatre and revues for several years. She says that "Regretfully, the rent was always due at the first of the month" which led to her giving up on career acting in favour of becoming a theatre arts teacher for the city of Chicago in 1970. She says that in 1984 her mother's friend who was a witch performed a spell to enable her to work and live legally in the United Kingdom, the spell worked and she has lived in London ever since. She describes herself as a 73-year-old Urban Hermit, who practices as a Solitary, and has the heart of a very stroppy sixteen-year-old!
I hope you enjoy reading this interview with Momma White Cougar and finding out more about her life and views. She is the author of THE SACRED WHEEL, WHITE COUGAR'S JOURNAL, and SPIRITUAL HEARTSONGS .
>>>
You may also enjoy other interviews in this series of interest, see: