UPDATE
In January 2008, the following post was identified as the 21st all-time most popular post with readers of this blog. The 22nd most-read post was my interview with Dr. Albert Mohler, radio host and theologian.
Mark Dever is a great man of God, and was very much the initiator of the set of relationships now described as "Together for the Gospel." I interviewed Mark for a second time in a post entitled, "Theology for All—An Interview With Mark Dever," and posted notes from a series of talks he gave in London in September 2007.
***************
One of the highlights of the year for me has been meeting Mark Dever—so much so that several weeks after this meeting I published a post entitled, "Is Mark Dever an apostle?"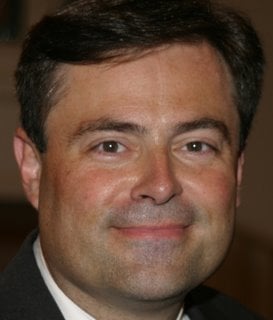 He graciously made space in his schedule for me to interview him face-to-face in spite of the fact that I was unable to hear him preach during his visit to the UK. I had previously reviewed his book, Deliberate Church, so this opporunity to meet the man filled me with eager anticipation. I have also enjoyed his new group blog, Together for the Gospel, which he writes together with C. J. Mahaney, Al Mohler, and Ligon Duncan.
On meeting him, it immediately became clear just how much Mark is a relational guy. At first it felt as if he was the one interviewing me, along with my pastor and friend, Tope! He showed such an interest in our church and in our history that I almost forgot why I was there. He was interested in us as people, and we spent a significant amount of time chatting about church leadership, preaching, and friendships that cross denominational boundaries.
He is a man of humor—when I confessed that of the four guys running Together for the Gospel, Lig was the only one I didn't really know, he laughed and accused Lig of being the "pope of evangelicalism." He rattled off a list of Lig's credentials and jobs, and then finished up by saying something like this:
"It's no wonder you don't know him—after all, he's a Presbyterian! There's a bit of a jump between charismatics and Presbyterians, so he would be the one furthest away from you. And besides, there aren't too many Presbyterians in the UK anyway! Baptists are like cousins to charismatics, and C.J.—well, if you're in Newfrontiers, he must be like an apostolic uncle to you!"
I was impressed that he was aware of the relationship between Newfrontiers and Sovereign Grace, and for that matter, that he had even heard of us—our family of churches is not very large in the US.
I did, however, protest that I know of at least one famous American Presbyterian—David Wayne—and we chatted about how friendships that cross genuine differences of opinion are invaluable to our learning and development as Christians.
Mark was eager to point out that he had learned a lot from the three other guys despite the fact that he is utterly convinced that Lig, in particular, is living in sin over his view of baptism! We had a good laugh about that. I explained to him what I felt was my trump argument—one I had put to David Wayne when we had discussed it online. The argument essentially goes like this. If the Baptist is wrong and the paedobaptist is right, what is the worst possible outcome? Unless you believe in baptismal regeneration and that babies who die unbaptized go to hell, then the worst outcome is that we are unnecessarily delaying baptism for people and as a by-product giving them a chance to remember it happening to them! On the other hand, if we are right and the paedobaptist is wrong, then, as Mark put it, they are in sin and preventing people from obeying a simple and direct command in Scripture. Mark smiled and said, "I used exactly that argument with Lig!"
We talked about the "gospel partnerships" which apparently are springing up in the UK, and we had to admit that we hadn't even heard of them. At this point Mark turned to his friend and said, "But would they talk to charismatics?" His candor and humor greatly impressed me.
Mark seemed very relaxed about the cessationist/charismatic issue. He said that cessationists would "calm down a lot" if we charismatics simply made sure that we answered their concerns about the sufficiency of Scripture and the closed nature of the canon. He was categorical that he had "no concerns" about the way C.J.'s church practiced prophecy.
Mark urged me to get a copy of D. A. Carson's book "Showing the Spirit," which he said argued that there is not a biblical distinction between the so-called "spiritual" gifts and others. He said it was only the reformers who started to speak of the so-called "extraordinary" gifts and argued that they had ceased in reaction to what they saw as the excesses of the Catholics.
He felt that the wall of division between supernatural and non-supernatural workings of the Spirit simply didn't exist in Scripture. Mark then said that he felt that "once you get rid of that categorizing of the gifts and believe in a sovereign God, then God can do whatever he wants."
He seemed to believe that the great divide between charismatics and cessationists was not as large as many believed, especially not in the States. His friend was quick to point out that not everyone in the UK's Proclamation Trust was cessationist, although he did admit that he meant that they were not cessationist in theology, although they probably were in practice.
Mark is reluctant to be identified as a full-on charismatic, and made clear that his own church is fairly traditional in style. He even admitted that he preferred a good dose of congregational hymn-singing to the worship at C. J.'s church, Covenant Life! He was quick to point out, however, that he does enjoy some of the modern songs, and particularly some of the Sovereign Grace, Keith Getty, and Stuart Townend songs.
I thought I would test Mark's apparent openness to things charismatic by asking him about his own sense of call. To me it is often over the sense of call that many a practical or theological cessationist becomes most unstuck and will sound inconsistent in their theology. I'm not sure that it is possible for anyone to be successful in the long haul in ministry without a clear conviction that God has chosen them specifically to lead in his house.
I asked Mark what it was that had convinced him that he had been specifically called to put his whole life into leading Capitol Hill Baptist Church. His answer was illuminating. He started with something which sounded somewhat vague to a charismatic's ear about Christian liberty within the bounds of what the Bible prescribes as God's will. He then acknowledged that God probably did have a more specific will for individuals than is revealed in the Bible. He also said that he had indeed had some kind of "subjective sense of what God wants." He didn
't seem to have the vocabulary to describe the experience, and I got the feeling (although I possibly could be mistaken, of course!) that he was uncomfortable with talking about it. His passion for his work and commitment to it shone through, and it seemed like he had a rock of conviction that he was called to go back to when ministry gets tough.
The Church badly needs the kind of long-term "stickability" that Mark models. Mark gave Charles Simeon's preaching in Cambridge for 56 years as a good example of what to aspire to. It's certainly what, God willing, Tope, a group of our co-leaders, and I are seeking to do at Jubilee. I am fairly confident that I will never have to move again.
At this point Mark told me of another book I should read—David Peterson's "Engaging with God," which speaks of the theology of worship based in Christ in Hebrews. I took this as the cue to move onto other subjects and we spoke about how Together for the Gospel had come about. To anyone who has watched the video of the four guys interacting, it will come as no surprise that these relationships are very precious to Mark. He was very warm as he spoke of his time at university with Al Mohler, then meeting Lig while they were both in the UK learning some good theology.
I was quick to lay claim for my fair country for both the forming of this group of friends and the theological training of the man I now know as America's senior Evangelical. Mark laughed and acknowledged yet another debt we are owed by our previous colony!
Mark then tried his best to pursuade us to come to T4G, but we humbly made our apologies due to other pressures of work. I do hope they video the conference, however, as the sessions with the four of them discussing conference talks sounds very interesting. Mark is keen for the conversations to demonstrate that it is possible to vigorously disagree with one another, but still rejoice in your unity in the gospel.
We spoke for awhile about Mark's passions and what he sees are the most important things facing the Church at the moment. Mark spoke about being passionate about getting the Church as a whole equipped to evangelize. He is eager for his church members to be able to share the gospel and not just their testimonies.
He felt that, as always, the challenge facing the Church is to continue to be faithful. He believes we now live in cultures that are openly hostile to the gospel, and that the more clearly people understand our message, the more they hate us!
We spoke of the importance of preaching the unchanging gospel to a modern audience. He believes that we should not jetison old words like "justification," but rather as people have done for hundreds of years, educate our congregations to understand the full message of the Bible. It is clear that he believes that many are "dumbing down" the message. Mark was anxious to point out that he does not doubt the motives of many who, far from intentionally dumbing down, are simply trying to make the message accessible today. He also pointed out the dangers of going too far the other way and preaching theologcial lectures that are not helpful and alive today.
Towards the end of our time, he suddenly became very passionate about the "health, wealth, and prosperity" gospel. Words flew out of his mouth far too quickly for my pen to keep up with. The air resounded with phrases like "evil teaching," "satanic doctrine," "turning God into an instument to acheive other things," and "a teaching that hates God."
Suddenly the gracious, affable, engaging man that I had grown to love dearly in our short meeting revealed the steely determination and love for the God of truth that clearly also pulsates in his heart. As an example of humility, love, and gentleness, but also deep commitment to truth and a firey passion for the gospel, Mark stands out. There are few men whom I have met in my life who I admire in the way that this short meeting made me admire Mark Dever. It is no wonder he is a friend to C. J. and Lig alike. It is also no wonder that he has such a following in American Evangelicalism.
I'm not sure if his semi-cessationist view would welcome me saying this, but I am deeply convinced that I spent some time with a man who is one of the gifts to the church that are listed in Ephesians 4. This is a man who deserves an audience, and from whom I am sure we all have much to learn.