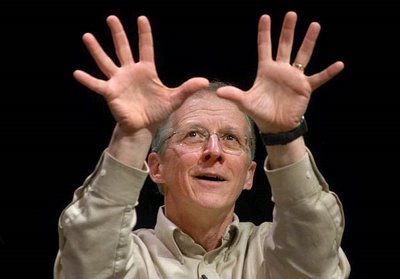 Today I want to bring you quotes from a talk given by John Piper about
Charles Simeon
. We begin with a description of Simeon's recollection of a conversation he had with the Arminian, John Wesley, when he was a young man. The conversation is instructive about how we should deal with people we disagree with and about how sometimes moderates from both sides of a theological debate are closer than we realise.
"Sir, I understand that you are called an Arminian; and I have been sometimes called a Calvinist; and therefore I suppose we are to draw daggers. But before I consent to begin the combat, with your permission I will ask you a few questions. Pray, Sir, do you feel yourself a depraved creature, so depraved that you would never have thought of turning to God, if God had not first put it into your heart?

Yes, I do indeed.

And do you utterly despair of recommending yourself to God by anything you can do; and look for salvation solely through the blood and righteousness of Christ?

Yes, solely through Christ.

But, Sir, supposing you were at first saved by Christ, are you not somehow or other to save yourself afterwards by your own works?

No, I must be saved by Christ from first to last.

Allowing, then, that you were first turned by the grace of God, are you not in some way or other to keep yourself by your own power?

No.

What then, are you to be upheld every hour and every moment by God, as much as an infant in its mother's arms?

Yes, altogether.

And is all your hope in the grace and mercy of God to preserve you unto His heavenly kingdom?

Yes, I have no hope but in Him.

Then, Sir, with your leave I will put up my dagger again; for this is all my Calvinism; this is my election, my justification by faith, my final perseverance: it is in substance all that I hold, and as I hold it; and therefore, if you please, instead of searching out terms and phrases to be a ground of contention between us, we will cordially unite in those things wherein we agree." (Moule, 79f)

But don't take this to mean that Simeon pulled any punches when expounding Biblical texts. He is very forthright in teaching what the Bible teaches and calling error by its real name. But he is jealous of not getting things out of balance.

He said that his invariable rule was "to endeavor to give to every portion of the Word of God its full and proper force, without considering what scheme it favours, or whose system it is likely to advance" (Moule, 79).

"My endeavor is to bring out of Scripture what is there, and not to thrust in what I think might be there. I have a great jealousy on this head; never to speak more or less than I believe to be the mind of the Spirit in the passage I am expounding" (Moule, 77).

He makes an observation that is true enough to sting every person who has ever been tempted to adjust Scripture to fit a system.

"Of this he [speaking of himself in the third person] is sure, that there is not a decided Calvinist or Arminian in the world who equally approves of the whole of Scripture . . . who, if he had been in the company of St. Paul whilst he was writing his Epistles, would not have recommended him to alter one or other of his expressions.

But the author would not wish one of them altered; he finds as much satisfaction in one class of passages as another; and employs the one, he believes, as freely as the other. Where the inspired Writers speak in unqualified terms, he thinks himself at liberty to do the same; judging that they needed no instruction from him how to propagate the truth. He is content to sit as a learner at the feet of the holy Apostles and has no ambition to teach them how they ought to have spoken." (Moule, 79)

With that remarkable devotion to Scripture, Simeon preached in the same pulpit for fifty-four years. What drew me to him was his endurance – not just because of the length of time, and not just because it was in the same place for all that time, but also because it was through extraordinary opposition and trials . . . .

In 1807, after twenty-five years of ministry, his health failed suddenly. His voice gave way so that preaching was very difficult and at times he could only speak in a whisper. After a sermon he would feel "more like one dead than alive." This broken condition lasted for thirteen years, till he was sixty years old. In all this time Simeon pressed on in his work.

The way this weakness came to an end is remarkable and shows the amazing hand of God on this man's life. He tells the story that in 1819 he was on his last visit to Scotland. As he crossed the border he says he was "almost as perceptibly revived in strength as the woman was after she had touched the hem of our Lord's garment." His interpretation of God's providence in this begins back before his weakness. Up till then he had promised himself a very active life up to age sixty, and then a Sabbath evening. Now he seemed to hear his Master saying:

I laid you aside, because you entertained with satisfaction the thought of resting from your labour; but that now you have arrived at the very period when you had promised yourself that satisfaction, and have determined instead to spend your strength for me to the latest hour of your life, I have doubled, trebled, quadrupled your strength, that you may execute your desire on a more extended plan. (Moule, 127)

So at sixty years of age, Simeon renewed his commitment to his pulpit and the mission of the church and preached vigorously for seventeen more years, until two months before his death . . . .

Simeon was utterly unlike most of us today who think that we should get rid once and for all of feelings of vileness and unworthiness as soon as we can. For him, adoration only grew in the freshly plowed soil of humiliation for sin. So he actually labored to know his true sinfulness and his remaining corruption as a Christian.

I have continually had such a sense of my sinfulness as would sink me into utter despair, if I had not an assured view of the sufficiency and willingness of Christ to save me to the uttermost. And at the same time I had such a sense of my acceptance through Christ as would overset my little bark, if I had not ballast at the bottom sufficient to sink a vessel of no ordinary size. (Moule 134f.)

He never lost sight of the need for the heavy ballast of his own humiliation. After he had been a Christian forty years he wrote,

With this sweet hope of ultimate acceptance with God, I have always enjoyed much cheerfulness before men; but I have at the same time laboured incessantly to cultivate the deepest humiliation before God. I have never thought that the circumstance of God's having forgiven me was any reason why I should forgive myself; on the contrary, I have always judged it better to loathe myself the more, in proportion as I was assured that God was pacified towards me (Ezekiel 16:63) . . . There are but two objects that I have ever desired for these forty years to behold; the one is my own vileness; and the other is, the glory of God in the face of Jesus Christ: and I have always thought that they should be viewed together; just as Aaron confessed all the sins of all Israel whi
lst he put them on the head of the scapegoat. The disease did not keep him from applying to the remedy, nor did the remedy keep him from feeling the disease. By this I seek to be, not only humbled and thankful, but humbled in thankfulness, before my God and Saviour continually. (Carus, 518f.)

If Simeon is right, vast portions of contemporary Christianity are wrong. And I can't help wondering whether one of the reasons we are emotionally capsized so easily today – so vulnerable to winds of criticism or opposition – is that in the name of forgiveness and grace, we have thrown the ballast overboard.

Simeon's boat drew a lot of water. But it was steady and on course and the mastheads were higher and the sails bigger and more full of the Spirit than most people's today who talk continuously about self-esteem.

Simeon's missionary friend, Thomason, writes about a time in 1794 when a friend of Simeon's named Marsden entered his room and found Simeon "so absorbed in the contemplation of the Son of God, and so overpowered with a display of His mercy to his soul, that he was incapable of pronouncing a single word," till at length, he exclaimed, "Glory, glory." But a few days later Thomason himself found Simeon at the hour of the private lecture on Sunday scarcely able to speak "from a deep humiliation and contrition."

Moule comments that these two experiences are not the alternating excesses of an ill-balanced mind. Rather they are "the two poles of a sphere of profound experience" (Moule, 135). For Simeon, adoration of God grew best in the plowed soil of his own contrition.

Simeon had no fear of turning up every sin in his life and looking upon with great grief and hatred, because he had such a vision of Christ's sufficiency that this would always result in deeper cleansing and adoration.

Humiliation and adoration were inseparable. He wrote to Mary Elliott, the sister of the writer of the hymn, "Just as I Am,"

I would have the whole of my experience one continued sense – first, of my nothingness, and dependence on God; second, of my guiltiness and desert before Him; third, of my obligations to redeeming love, as utterly overwhelming me with its incomprehensible extent and grandeur. Now I do not see why any one of these should swallow up another. (Moule, 160f.)

As an old man he said, "I have had deep and abundant cause for humiliation, [but] I have never ceased to wash in that fountain that was opened for sin and uncleanness, or to cast myself upon the tender mercy of my reconciled God" (Carus, 518f).
The whole talk is well worth a read or listen.
For more information on Charles Simeon visit the following:

Simeon's Writings
Piper mentions the massive 21-volume set of Simeon's sermons that form a commentary on the Bible. Having read what I did above, I was eager to get ahold of these. Sadly they are not in print. So I have started a personal campaign to persuade the good folks at Logos to produce a version of them. If you, too, would be interested in purchasing an electronic, searchable edition of his writings, then let me know via email or in the comments section here.
Spurgeon seemed to love the work and said the following about it in his book reviewing commentaries:
SIMEON (CHARLES, M. A. 1759-1836). Horae Homileticae; or, discourses digested into one continued series, and forming a commentary upon every book of the Old and New Testament; 21 vols. Seventh edition. London, H. G. Bohn, 1845. S.f2 10s. [Being the entire works of Charles Simeon, with copious indexes, prepared by T. Hartwell Horne.] Not commentaries, but we could not exclude them. They have been called 'a valley of dry bones': be a prophet and they will live.
I am praying that they may live again!
By John Piper © Desiring God
Website: http://www.desiringgod.org/
Email: mail@desiringGod.org
Toll Free: 1.888.346.4700