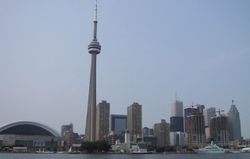 Well, it's happening again. I'm traveling with my work once more, and this time I'm going to be traveling to America via Toronto. The way things have worked out, I'll be able to meet up with some great blogger friends – all of whom I feel like I've known for years already! Believe it or not, it's taken us more than 60 emails so far to organise this meeting – most of which were peppered with humour and deliberate sporting references intended to leave me out! I'm sure it's going to be a lot of fun meeting face-to-face with this band of fellow nutters – sorry, bloggers!
Tim Challies
,
Paul Martin
,
Andrew Fountain
, and me in the same restaurant – the other diners better watch out!
Whenever the time comes around for me to travel and I mention to those who know me that I'm once again going abroad, there are at least three different reactions I observe. The first, which is more prominent immediately after a terrorist incident, is one of concern for my safety. It's interesting how irrational our fears can often be; for example, the risk doesn't change just because yesterday the head of MI5 announced that there are some 1600 people involved in some 200 terrorist organisations in the UK that MI5 believes want to plan other attacks. Statistically, I'm still safer flying than any other form of transport, so such worries really don't concern me that greatly when I plan a trip. I do pray more these days, however, before a trip.
The second response that I get is – "Wow! What a jet-setter!" The truth is, as any frequent business traveler will tell you, the glamour of seeing the world can soon fade. At times we can zip in and out of a city and not see anything at all. Sometimes it's possible to squeeze a few hours out of a schedule to spend time outside of a hotel room or restaurant. It can mean setting an alarm earlier and walking around the city center (if the hotel is based there), or sometimes flights can be organised to give a few extra hours on either end of the trip. That kind of carving out of "me-time" is worthwhile, in my opinion, as it is a major way to avoid the cynical disinterest that is the constant temptation of every business traveler. If, on at least some trips, the sights and sounds can be absorbed rather than spending the time merely rushing around, something of the wonder and appreciation of the privilege it really is to actually be paid to visit other countries instead of having to take a holiday and pay for your own flights, will return.
The third response – perhaps by some who know what excessive travel can be like – is one of pity. Thoughtful comments are made about the difficulties involved in leaving a family behind, and of the hassle that travel can be. But, in a funny way, I think most of us go through a bit of a U-shaped curve when it comes to our attitudes towards flying – I know I have. At the beginning you love it, then the hassles come and you start to hate it. Then, if you are smart, when things go wrong and you end up spending your first unwanted night in a foreign country – or worse still, having to sleep in an airport – you start to remember how much easier we have it today than our anscestors did in their day. All kinds of rationalising thoughts come into your mind. I remind myself how amazing it is that we can do these trips in a day when in the past they would have taken weeks. Traveling becomes something to which you resign yourself, and you do it because you have to. So when someone said to me that they were shocked I was preaching just before getting on a transatlantic flight this Sunday, my response was twofold:
I'm glad I'm not preaching after getting off the flight.

To me, flying is just another form of commuting anyway!
I take a book to read, or things that I need to work on for my job. I program myself to think "Well, if I wasn't sitting here in this airport or on this plane, I would probably just be sitting somewhere else anyway, so what difference does it make?" You can get a lot of reading done – no emails, no phone calls, usually no conversation. And at times, for a bookaholic like me, it's almost a dream come true! I am really beginning to ENJOY flying! I suppose that makes me sound mad.
In summary, life is what you make of it – you can either think, "O rats, we are circling Heathrow again, waiting for a landing slot, and my taxi driver is going to be annoyed at me like it's my fault when I'm delayed", or you can say to yourself, "Cool, I get a bit longer to read this book without any interruptions", or "Hey, isn't this a great opportunity? I get to sit next to someone who actually wants to talk!"
I think a lot of this new attitude of mine to traveling is simply a common sense way of coping with it. But, I'm sure that a good proportion of it is God helping me to learn to be content with the situations life sends my way. I need to learn this lesson in every area of my life, not just in traveling. All this makes me think of Paul's words:
"I have learned in whatever situation I am to be content. I know how to be brought low, and I know how to abound. In any and every circumstance, I have learned the secret of facing plenty and hunger, abundance and need. I can do all things through him who strengthens me." (Philippians 4:11-13)