This interview is being serialised over several days. So far I have published part
one
, which focused on personal issues, and part
two
, in which we discussed Systematic Theology. In part
three
we explored Grudem's charge that feminism inevitably leads to a denial of Scripture's authority. Part
four
honed in on the "trajectory" arguments used on both sides of this debate. In part
five
we looked at the issue of women addressing church congregations. We now continue the interview with a look at a thorny issue in the church today – the Atonement. The interview is summarised in my post Dr Wayne Grudem Interview – Highlights and Reflections.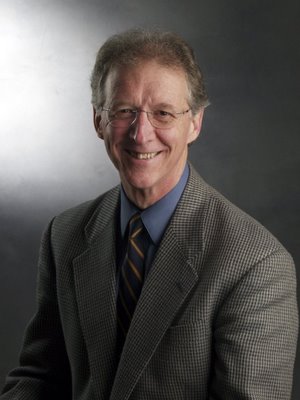 John Piper – like you – is better known as a theological bridge-builder rather than a theological warrior. But he has gone into battle over at least two issues – the openness of God – where he stood out strongly against individuals who teach that God doesn't know the future – and more recently in defence of penal substitution.

Personally, I was quite surprised by the level of passion he expressed in his recent talk at the DGM conference. He quoted a now infamous passage from Steve Chalke – a very well-known and influential member of the UK's Evangelical Alliance – which claims that a traditional evangelical view of penal substitution is nothing more than "cosmic child abuse." Do you agree with Piper's choice of these two issues as ones to stand up for vigorously? Do you also think he was fair to then boldly declare that he believed that Chalke's words were blasphemy? Do you agree with that assessment?

Wayne
(1) Yes. (2) Yes. (3) Yes. Chalke is denying the heart of the Gospel. (

Ed: Grudem has since

retracted his agreement to the use of the word blasphemy of Chalke

but not his strong criticism of Chalke's views

)

Evangelicals in the academic world battled against liberals in scholarly writings about this issue fifty years ago, and I think that evangelicals like Leon Morris won the argument and won the theological battle. Now Chalke is giving away the hard-won victory. He is giving away the heart of the Gospel. I would never agree to give my approval to anyone who denies penal substitutionary atonement to be an elder at a church I attended, or to be a pastor or Bible teacher, or to teach at a theological seminary where I had influence on the appointment.

Adrian
It seems to me that each generation has specific theological arguments that define it. Do you agree with that? If so, what theological arguments do you see breaking in the future that maybe are not that prominent yet?

Wayne
I don't claim to be a prophet, so I really don't know. But one way to predict trends in the church is to watch the culture. Sadly, too many churches give in to pressures to conform to the culture in every generation. And two issues that come to mind, where the Bible differs clearly with the culture, are universalism (the idea that everybody will be saved whether they believe in Christ or not) and homosexuality. A third issue is moral relativism, which is counter to the entire moral fabric of the Bible and the fact that God wants people to live in conformity with His moral laws.

---
I have kept this portion of the interview short due to the vital importance of the subject we were discussing. I plan a major post sharing a recent talk I gave on the subject of the Atonement sometime in the New Year – probably as part of my plans to revive and complete my series on the
Together for the Gospel
Statement.
For now, let me share with you some links to pages from this and other websites on this vital subject, and feel free to comment away. I should tell you that I am in the middle of writing a more strict blog comment policy, and one of the points (which is in operation as of now) is that I want to keep comments

on topic

. Thus, this is a post about competing theories of the Atonement and nothing else.
To have Wayne Grudem and John Piper both agree that one of the UK's leading evangelicals was committing blasphemy is about as serious a position as I can imagine us to be in, and one worthy of a bit of careful discussion, but first here is the passage in
John Piper's talk at DG06 that speaks
of Steve Chalke
, and which I asked Wayne Grudem about.
"The Son of God, Jesus Christ, came into the world, lived a perfect life, died to bear the penalty for our sins, absorbed the wrath of God that hung over us, rose from the dead triumphant over death and Satan and all evil, so that all who receive Jesus as the Savior, Lord, and Treasure of their lives would be forgiven for Christ's sake, counted righteous in Christ, and fitted to know and enjoy God forever.

Oh, how I wish that at least here, at the center of the Gospel, there would be common ground among those who claim to be followers of Jesus today. But that's not the case, and one of the reasons is that the postmodern mind, inside and outside of the church, has no place for the biblical truth of the wrath of God. And, therefore, it has no place for a wrath-bearing Savior who endures God's curse that we might go free. One of the most infamous and tragic paragraphs written by a church leader in the last several years heaps scorn on one of the most precious truths of the atonement: Christ's bearing our guilt and God's wrath.

The fact is that the cross isn't a form of cosmic child abuse—a vengeful Father, punishing his Son for an offense he has not even committed. Understandably, both people inside and outside of the Church have found this twisted version of events morally dubious and a huge barrier to faith. Deeper than that, however, is that such a concept stands in total contradiction to the statement "God is love". If the cross is a personal act of violence perpetrated by God towards humankind, but borne by his Son, then it makes a mockery of Jesus' own teaching to love your enemies and to refuse to repay evil with evil. (Steve Chalke and Alan Mann, The Lost Message of Jesus [Grand Rapids: Zondervan, 2003], pp. 182-183.)

With one cynical stroke of the pen, the triumph of God's love over God's wrath in the death of his beloved Son is blasphemed, while other church leaders write glowing blurbs on the flaps of his book. But God is not mocked. His Word stands firm and clear and merciful to those who will embrace it:

We esteemed him stricken, smitten by God, and afflicted. But he was wounded for our transgressions; he was crushed for our iniquities; upon him was the chastisement that brought us peace, and with his stripes we are healed. All we like sheep have gone astray; we have turned every one to his own way; and the Lord has laid on him the iniquity of us all. . . . It was the will of the Lord to crush him; he has put him to grief. (Isaiah 53:4-6, 10)

Christ redeemed us from the curse of the law by becoming a curse for us—for it is written, "Cursed is everyone who is hanged on a tree." (Galatians 3:13)

For God has done what the law, weakened by the flesh, could not do. By sending his own Son in the likeness of sinful flesh and for sin, he condemned sin in the flesh. (Romans 8:3)

Whose sin? My sin. Whose flesh? Jesus' flesh. Whose condemnation? God's condemnation.

In our present fallen, rebellious condition, nothing — I say it again carefully — nothing is more crucial for humanity than escaping the omnipotent wrath of God. That is not the ultimate goal of the cross. It is just infinitely necessary—and valuable beyond words.

The ultimate goal of the cross, the ultimate good of the Gospel, is the everlasting enjoyment of God. The glorious work of Christ in bearing our sins and removing God's wrath and providing our righteousness is aimed finally at this: "Christ also suffered once for sins, the righteous for the unrighteous, that he might bring us to God" (1 Peter 3:18). Jesus died for us so that we might say with the psalmist, "I will go to the altar of God, to God my exceeding joy" (Psalm 43:4). (John Piper)
Before I share some more links with you, let me share a quote from Calvin which goes some way to alleviating some of the concerns that critics of penal substitution have. For what they say is: "How could God be displeased with Christ on the cross?" My answer is that God was both displeased with the sin that Jesus had become, but remained pleased with Jesus' infinite goodness which in some way swallowed up sin, thereby destroying it. Calvin puts it this way:
"We do not, however, insinuate that God was ever hostile to him or angry with him. How could he be angry with the beloved Son, with whom his soul was well pleased? Or how could he have appeased the Father by his intercession for others if He were hostile to himself? But this we say, that he bore the weight of the divine anger, that, smitten and afflicted, he experienced all the signs of an angry and avenging God."
(Calvin, J., & Beveridge, H. (1997). Institutes of the Christian Religion. Translation of: Institutio Christianae Religionis; Reprint, with new introd. Originally published: Edinburgh: Calvin Translation Society, 1845-1846. (II, xvi, 11). Oak Harbor, WA: Logos Research Systems, Inc.)
More Links on the Atonement on My Blog
L – Limited Atonement – In this post, I begin talking about Limited Atonement by asking first what atonement is and addressing Chalke's viewpoint.

Other Sites
Continued in part seven . . .