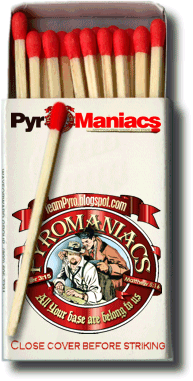 Over on Pyromaniacs, the last three posts and their extensive comments sections have all been prompted by the differing reactions to the Piper piece on
Hearing the Voice of God.
This article by John Piper is certainly a piece that is well worth listening to, as well as reading. The following are the three resulting Pyro posts.
I have commented extensively over there on each of these posts, so I won't repeat myself here. I thought it might be helpful, however, to share my comment on today's post:
So, there we have it. I have a new label I can wear with pride—I am a "thrill seeker"! If by seeking thrills you mean seeking the thrill that comes from knowing God, then you have me right.

Perhaps we have hit on the nub of this issue. I am not against moments of contemplation and a raft of other emotions, but you are dead right—I do believe God wants us to rejoice in Him.

Piper adapts the old Puritan catechism to say we exist to "Glorify God by enjoying Him." I don't think it would be so wrong to change that again to "being thrilled with Him."

As far as the gifts are concerned, you are right that, when used in public, they are for the benefit of the whole congregation. But to me, part of being built up is surely to receive the joy God intended for us. Also, tongues has a function for the individual to fortify them, and again part of that I would argue is to bring joy.

". . . [on] the other hand, the one who prophesies speaks to people for their upbuilding and encouragement and consolation. The one who speaks in a tongue builds up himself, but the one who prophesies builds up the church." (1 Corinthians 4:3-4)

I think the above definitely implies inducing joy as part of the benefit of the gifts.

Certainly the Bible has many examples of ecstatic experiences of God—such as Paul in 2 Corinthians 12, Saul in the Old Testament, and many more.

Some more general verses for you about why joy (i.e. being thrilled) is so central:

Jesus himself is described as follows: "God, your God, has anointed you with the oil of gladness beyond your companions." (Psalm 45:7)

We are commanded many times to rejoice in God. See, for example:

"Rejoice in the Lord always; again I will say, Rejoice." (Philippians 4:4)
"Rejoice always." (1 Thessalonians 6:16)
"I have come that they may have life, and have it to the full." (John 10:10)
"…do not be grieved, for the joy of the Lord is your strength." (Nehemiah 8:10)
"But the fruit of the Spirit is love, joy . . ." (Galatians 5:22)

I like the way Lloyd-Jones puts it:

"If you stop in your sins, if you stop in the dust and the ashes and in the sackcloth, I say, you are not scriptural. You must go on from that and look to Him, and apply again the truth to yourself. You must be certain that you end in a condition of thanksgiving and praise, with a realisation that your sins are covered and blotted out, and that you are renewed, and that you are able to go forward."