During a brief trip to the USA this past week, I had a layover in the Chicago area. I had an amazing few hours. I ate lunch with two great friends who I had never met in the flesh before. It struck me that the impression I had of them when finally meeting face-to-face was almost identical to the one I already had through our electronic communications. I thank God for the people I have been privileged to meet through this blog.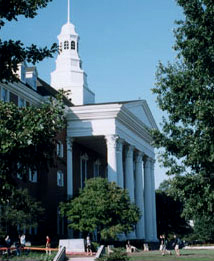 What I want to focus on in this post is what happened next. I hadn't even realized that there was a connection between Billy Graham and the town I was visiting. At my friends' suggestion, I headed to the Billy Graham Center at Wheaton College.
I am well aware that there are at least two different perceptions of Billy Graham among evangelicals. You can read about both perspectives in a 2006 MSNBC interview and the Wikipedia page about Billy Graham. There are many evangelicals who, although they might have some concerns, greatly rejoice in what God has accomplished through his preaching of the Gospel. In Philippians 1, Paul rejoices that Christ was preached even by those who had bad motives. Surely all Christians can rejoice at the preaching career of a man who has been in the media spotlight for five decades and yet has never been accused of a lack of integrity.
Wikipedia believes that 2 billion people have heard Billy Graham preach the Gospel and that 2.5 million of them made a public declaration of faith in response. There is no doubt that Billy has preached to more people than any other Christian minister in the last 2000 years. If there have been some weaknesses about Billy over the years (and certainly Billy himself believes that there are) then surely the fact that God chose to use someone weak in such a dramatic way only underlines the glory of his grace.
The Billy Graham Center moved me profoundly. An overview of evangelical history in America led into a more detailed report of the life of the man often called "America's pastor." The focus was not on his role as personal counselor to every president since Harry Truman. Rather it was his preaching and crusades that were reported in most detail. Walking past photographs of massive crowds while listening to clips of his preaching brought tears to my eyes. It seemed that in every era the extracts of the messages they had playing said almost the same thing, which I have paraphrased as follows:
Christ died, took the guilt for you, became sin for you, and rose again. He's a living Christ. He's here right now. He wants you to repent, trust him, and ask him to be Lord of your life, to come into your life so you can then follow him as Lord and Saviour.
The focus was not just on the death, but also on the resurrection. It was not just on sin and wrath, but also forgiveness and love. He was not content to speak only of God in heaven, but also of Jesus living in our hearts. I stood behind Billy's traveling pulpit and listened to his voice and wept that God would raise up more preachers of Christ in our day who can fill stadiums with the Gospel.
As the exhibition closes, if visitors are in any doubt about who the organizers really want to glorify, you are led through a passageway to the foot of an enormous cross. Then you are taken into a dark passageway clearly intended to be the grave. As you round the corner, a simple inscription is written on the wall "He is not here, but risen!" The passageway then opens into a light room clearly intended to reflect glory. I was quite simply undone by this and had tears welling in my eyes.
I was left with a strong impression of the need for us to preach the simple Gospel of Jesus' death AND resurrection. I also remember reading these words of Billy Graham there (which sadly I did not write down in a notebook, so they may not be 100 per cent accurate, although the sense is definitely there):
I find that when I preach the simple Gospel with authority, quoting the very words of the Bible, the Holy Spirit drives it home into the hearts of people.
The Holy Spirit was a major focus of the exhibition in several quotes. Oh, for a return to such an emphasis on the living Jesus sending his Spirit to convict the world and bring them salvation. Deliver us from an overly intellectual Christianity, oh God. Remind us that the Gospel is indeed simple enough that a farm boy with no theological degrees can become its most prolific ambassador!
The impression left on me was striking indeed. So much so that, somewhat surprisingly for such a fan as I am, seeing the writing desks of C. S. Lewis and J. R. Tolkein, not to mention the wardrobe which inspired The Lion, the Witch, and the Wardrobe, was frankly an anticlimax!