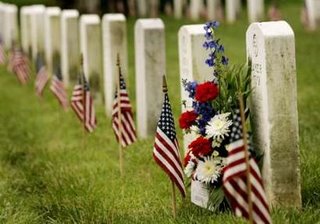 One of the joys of being a part of this online community is that I get to celebrate holidays I would not normally celebrate. As you read this, ironically I am probably over the Atlantic on my way to the USA for a business trip to Phoenix, Arizona. Although today is a national holiday in the UK, there isn't really a reason for it. We have a number of such holidays where the idea is simply to spend time with family.
But today in America is Memorial Day. I like the idea of a day to cherish the memory of those who have fought and died for our freedoms, and I understand, to also remember those loved ones who have passed away for other reasons.
So today I would like to remember some people who are no longer on earth.
The soldiers of all nationalities who helped to ensure Europe did not come under the tyranny of fascism, and all those who have died since then fighting for freedom.
My grandfather, Edwin Millington Warnock, whose faithful service to God in preaching the gospel inspired me, and who one day prophesied about me (although I am not sure he would have called it that) that I would also preach God's Word.
Edwin's wife, my grandmother, who as I grew up, epitomised faithful selfless service to others as she, with great joy, would provide food for her grandchildren and cared uncomplainingly for her husband as his health declined.

My other grandmother, mother to my Mum, who instilled virtues such as hard work and discipline into my mother, who then passed them on to me. I will also never forget the hours we spent playing Reversi/Othello.
Henry Tyler, who has had more personal influence on me spiritually than anyone else, apart perhaps from my pastor, Tope Koleoso.
My Uncle Stephen Hickley, whose trust-filled response to hearing he had terminal cancer was an inspiration to all who heard.
Two of my sisters' close friends, whose sudden deaths as teenagers helped propel me towards a medical career.