I want to share three stories with you. The first happened right here at our home church. A woman who had previously had a melanoma removed was told, following a scan, that her cancer had returned, I believe in three places. I know this lady personally. We prayed. Following that, the doctors were unable to find the lump in her neck; it seemed to have disappeared and so could not be biopsied. That caused some consternation to the doctors. They then removed another lump, which actually seemed smaller than they had originally thought it to be. It seemed as though the cancer was shrinking, not growing. Now, just this week, they repeated the scan, and could find no trace of cancer. They have told her they do not need to see her for a few months. We are thrilled for her! Skeptics might say, "Oh, but it went into remission naturally," or "The doctors just made a mistake in the first place." Me? I just want to thank God that he has healed her—miraculously or naturally—it doesn't really matter to me which way!
The other two stories both come from Terry Virgo's blog. Terry is a man I would trust implicitly having had contact with him for many years.  Incidentally, God-willing, I will soon have videos appearing on this blog of my New Word Alive interviews with Terry, John Piper, and Don Carson. Please pray that some of the technical hitches we have been having with those files will be resolved shortly.
Anyway, when reporting on his own perception of New Word Alive, Terry reported briefly on a healing he had observed the week before:
While at Rhiwbina, I had the joy of praying for Maggie Parker, who had been wheelchair-bound for 23 years. She stood, walked unaided to the front, and testified to an astonished and tearful congregation how Jesus had completely healed her, and then expressed her surprise that everyone seemed so short! That was pretty exciting, too!"
This story is a remarkable one, and just the other day Terry shared the following update from Maggie Parker:
""'It has been a very strange fortnight, to say the least. I have never had so many opportunities to witness handed to me on a plate. I have many Christian and non-Christian friends all over the world. I am just overwhelmed by the joy He has given to so many people: the hairdresser, an exercise class I attend, the road tax man. The list goes on and on. I haven't heard from the Council, or the DVLC, or the Department of Works and Pensions, whom I have told I do not want their money any more! All the letters contain a short testimony to the effect that I am a practicing Christian and believe that Jesus died for me to forgive my sins, is risen, and that He is still healing today! Wow! I would love to have seen their faces on opening such a letter.

'People are not looking quite so small now as I am adjusting to seeing the world from standing upright. I have been up an escalator and, of course, walked where I have not been able to before. My friend in North Wales already has my favourite walks earmarked and, of course, this includes the miners' track of Snowdon. My muscles and ligaments are complaining because I do not seem to be able to gauge a "slow build up of exercise"! I'll get to a more sensible stage I expect.'"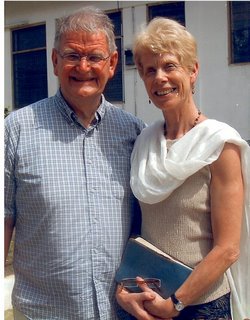 In the same post, Terry spoke of a time of remarkable healing this past week during a Russian speakers conference in the Crimea. At the end of the conference, he also reported that his wife, Wendy Virgo, suffered appendicitis.
Wendy was not miraculously healed. But she was sovereignly preserved. And the God-given skills of surgeons and doctors meant that a potentially life-threatening condition was quickly resolved. I am quite sure that although he doesn't say this in his post, Terry is as grateful to God for healing his wife in this way as he is for the other healings he has recently witnessed. Actually, given that Wendy is his wife, I am fairly sure he is actually more pleased that she is recovering well from her surgery.
As John Piper reminded us at New Word Alive, it is right for us to pray for healing. It is biblical to lay hands on the sick and ask God to heal them. God does heal today. Sometimes, like for my friend, it is a mysterious process that some observers might simply put down to the body somehow curing itself (although, in her case, it seems like somewhat more than that to me). Others are healed dramatically as Maggie Parker has been. But a final group are healed through the God-given skills of the doctors. We should rejoice and thank God no matter which method he uses to heal.
We rejoiced in God together this morning in our church prayer meeting. We remembered to thank him for all the wonderful things he is doing. But, hearing these stories made us long for more. Please join us in crying out to God to send more of his Holy Spirit on this earth to heal the sick, bring salvation to many, and purify his Church.
Note: The photograph of an empty wheelchair is taken by Richard James and is not Maggie Parker's.