UPDATE – Todd Bentley has now stepped down from ministry after separating from his wife.
UPDATE – I have now also published a number of other posts on Todd Bentley
I have had a number of people ask me about events which are gaining a lot of attention at the moment. In the UK, a series of 'revival' meetings being run in Lakeland, Florida by evangelist Todd Bentley are being shown daily on God TV.
Before I get into that, however, apparently British satellite TV now carries ten stations devoted to nothing but Christian teaching, and as far as I know, not one of them is consistently promoting a more Reformed message. "Desiring God TV" anyone? In fact, I don't get to watch any of these channels since having paid the government for the right to own a TV, I object to having to pay a subscription to Mr. Murdoch as well.
What is interesting to me is that the medium of TV and the medium of the Internet appear almost by their nature to attract different kinds of ministries. If an alien from another planet (if such a thing exists!) was to spend a few hours searching for Christian blogs and sermon websites and would compare notes with another who had spent the same amount of time watching Christian TV, I suspect they would come to very different conclusions about the predominant philosophical and theological environment of western Christianity.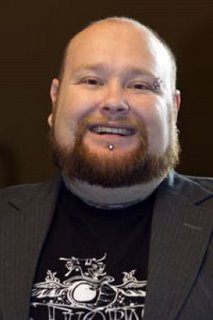 Anyway, back to Lakeland and Todd Bentley. As a result of my self-imposed TV channel poverty, I know little or nothing about the events in Florida. For the past few weeks I have been studiously avoiding commenting here on the blog about something I know very little about. I did read a piece over at Pyromaniacs, but felt that I did not want to reject these events which I have not studied.
I heard that someone said recently concerning these events, "I do not want to be an enemy of someone God calls a friend." But neither do I want to endorse something wholeheartedly that, from what I have heard, has, at the very least, some significant stylistic differences to what I would be comfortable with.
Oddly enough, I had already written this article before reading Terry Virgo's post on Todd Bentley and Lakeland, Florida from earlier yesterday in which he shared his own initial reflections, which begin in a very cautious tone. Terry was rightly concerned about a number of things he saw on the God Channel.
Terry ends his post by speaking of the experiences of another Newfrontiers pastor. "However, a friend of mine who actually attended the Lakeland meetings for several days felt 'I hate this . . . I want to get out of here,' but actually went on to be blessed and, as he watched more closely, felt that he saw remarkable compassion and mercy, particularly being expressed to large numbers of poorer people who were flocking to the meetings. Since his return to the UK, he has witnessed a number of healings, as indeed others have."
I suppose my own conclusions for now on what little I know of these events would be as follows:
We should not rush to either wholeheartedly reject or accept everything that is happening. I suppose I am taking something of a Gamaliel approach, at least for now.
It strikes me that if it weren't for TV, we might not even be hearing about these events yet. Time will demonstrate if this is just a localized event or truly something more significant.
If we hear reports of God healing and people becoming Christians, it would be wise for us to rejoice, even if we may reserve the right to be discerning about the practices and beliefs of the teachers involved. Paul rejoiced whenever the gospel was preached, even if he knew that the motivations of the preacher were bad.
We should resolve to think the best of others as much as we can, without foolishly swallowing everything we see as being all right.
We should remember that, as I heard someone say recently, God does not distribute his anointing as a reward for good theology or good behavior. If God can use a donkey in the Bible, we should not be surprised if he uses somebody of whom we do not approve. Fortunately for us, God is much more gracious than we are!
The faith and expectancy of others should challenge us to dare to believe that God can act today, and as John Piper recently put it, be "desperate for the supernatural."
Over the next few days I will be sharing a report of a visit made to the Lakeland 'revival meetings' by a dear friend of mine, Jesse Phillips.