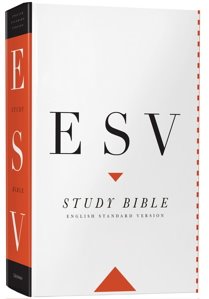 The ESV Study Bible (ESVSB) launch date of October 15th is approaching fast. The Study Bible team has been busy sharing samples and features online to entice us. Their goal is to help people know what's inside the Study Bible and how it might best serve them.
From an e-mail sent out by the Study Bible team, here is a summary of what is available at this time:
Free Book Introductions and Sample Chapters Online
In addition to the previous posts from Jonah, the Psalms, and Revelation, the introductions have now been uploaded,including sample chapters, for the following books:
Free Articles Online
A number of the fifty articles that will be in the ESVSB have now been uploaded:
City Plan of Rome
The Introduction to the Book of Romans contains a city plan of ancient Rome, which has been posted online, along with an excerpt of some of the information on Rome found in that introduction. Other city plans that you'll find in the ESVSB include the cities of Ur, Nineveh (see page 9 of the Jonah PDF), Babylon, Jericho, Corinth, Ephesus, and Philippi.
Interviews With Contributors
New Videos
A
video page has been launched
for the ESVSB.
Some of you have probably already seen the five-minute YouTube preview, but that was just part of a thirteen-minute video that goes into more depth. Each of the nine chapters from the video is available individually. Some of you might be especially interested in this one-minute overview of the Online Study Bible, which hasn't been discussed much yet.
All the videos are available to download as high-quality mp4s.
The following video is an interview with Wayne Grudem, J. I. Packer, and Lane Dennis of Crossway, and is hosted by Justin Taylor:
Facebook
If you want to interact with others about the ESVSB, you can now join a Facebook group.
If you live in North America you can pre-order from the ESV Study Bible website or from Amazon.com using the following links, which seem to be offering significant discounts:
If you live in Europe, then visit Amazon.co.uk using the following links: