This was the first talk I have been able to hear at New Word Alive this year. I got my book submitted on the 1st April as planned (at least by Chicago time, which is all that really counts!) Got here around lunchtime and already have lots of video but so far no way of uploading it. But be warned, when I do get to upload it, you will see all kinds of school boy errors of filming! I may have a fancy camera, but I am just learning how to use it. Anyway, Terry spoke tonight followed by a time of worship lead by Stuart Townend and Phatfish. The worship after the meeting itself had finished was very lively with much hand clapping, arm raising and enthusiasm in evidence.
Terry began by explaining that as Jesus popularity is growing, he is being questioned by Pharisees about the kind of people who he associates with. In this chapter we see three lost things – sheep, coin, person
Jesus was much closer to the ordinary people than the Pharisees thought teachers should. He was bringing God near.
When something that is precious is lost and then found you will be joyful. There is no agony like loosing someone, like for example a little child. Dickens said the prodigal son was the finest short story ever told. The man had two sons. The younger wanted to be distant from the Father, like Adam. The son wanted it all now. Not any sense of accumulating wealth. He wanted no restraint. The money that came easily, went easily. As did his friends. He came to the end of himself. He no longer wants to run away.
When we are vulnerable, and weak it is just us. We can no longer make excuses. Not "if only things had been different…" He thinks he cannot be a son. The story is a revelation of the heart of God. He had compassion for the son, rather than rejecting him. He felt compassion for him. The father puts aside all decorum and runs, then kissing him repeatedly. The boy is scooped up into the father's heart.
The older brother is a tragic figure. Instead of celebrating there is the heart of a Pharisee. He says "I have slaved for you" (NEB). He has no idea of sonship. It's his religion. There is a hatred of grace, and no real idea of the love the Father had for him. The religious man is trusting that his endeavor is going to be enough. If someone is asked if they are a Christian and they answer "Yes I always, or Yes I never," then you know they are not saved. Its not about "I" its about trusting Jesus work. The beauty of the Father's love. Jesus is teaching the Pharisees, and giving them another chance. Jesus is saying these tax collectors are your brothers, Pharisees.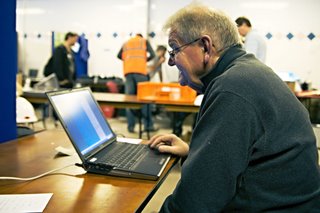 of us don't want the restrictions of being a Christian. But the father has better parties than you could ever attend. Jesus is actually addressing the Pharisees. Jesus came to seek and save the lost, the independent. People say "I know the Bible says, but I feel…" Jesus loves sinners, he calls us back and he sets us free. He calls us to abandon religious favour-seeking and throw ourselves onto God's mercy. Eternal life is that you might know him.