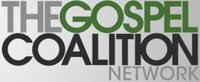 The growth of the Gospel Coalition Network's New Website is nothing short of astonishing. To go from nothing to over 3000 free subscribers in just one week is incredible. It feels like we are at the beginning of something entirely new. If you are a regular reader of this blog and still haven't joined and dug around the different groups and got stuck into networking for Jesus, then perhaps it's time to jump in. One way to begin to find some groups that might interest you is to visit my profile page where you will find links to the ones I have joined. Tim Challies has also joined and has been writing about it on his blog.
Demand for the
videos and audio of the recent conference
has been so great that it briefly caused the main website to fall over earlier this evening. The site is back up and running and duly reinforced, so it should cope. The age-old banner of the gospel has been unfurled and waved. A clear trumpet has sounded. Those of God's people who are concerned that the church has been drifting away from the message delivered once for all to the saints are rallying almost as one man.