I was asked this week what issues in the American Elections concern my constituency of readers, many of whom are American. I think a number will agree with an issue that is not often expressed. For me, as a British observer, one big concern I have is for the unity of your great nation. It seems that with every passing election cycle the divisions grow deeper. Some Republicans dismiss Obama as out to destroy what makes America great, while some Democrats demonize Romney.
It might surprise you to know that in the UK we just don't seem to feel our politics as strongly as you do. Few of us passionately and unequivocally support one party or the other. The notion that anybody would "register" as either a Conservative (most similar to your Republican) or Labour (similar to your Democrat) voter seems bizarre. When our last election came round, I don't even know for sure how most of my friends voted!
Over here someone might be inclined towards the Conservatives, but admire the Labour Tony Blair as a leader. They might believe in abolishing abortion in almost all cases (a very common opinion among Evangelicals) but decide to vote Labour because they believe supporting spending more money on the poor and needy is a way of expressing Christian love. Few Evangelicals in the UK believe that supporting either party is a necessary consequence of their faith.
I look at your media, your political adverts, your adversarial debates, and I wonder, how long before your nation tears itself apart? Can either of the candidates unite the land? With your red states and blue states, it often seems to me like you are not a very United States at all!
Even Rick Warren has cancelled his "Civic Forum" due to the lack of civility he has observed in this campaign on both sides, saying
""I've never seen more irresponsible personal attacks, mean-spirited slander, and flat-out dishonest attack ads, and I don't expect that tone to change before the election. … It would be hypocritical to pretend civility for one evening only to have the name-calling return the next day."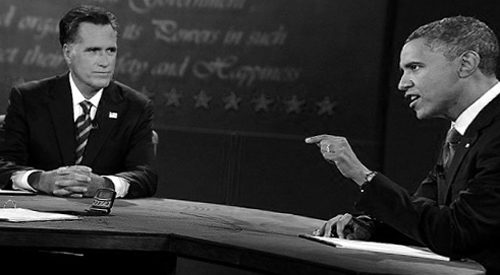 What seems to be at stake in your nation is the ability for people to get along and disagree agreeably. This is much more than just a political issue. If as soon as the vote was cast, you all united again as "Americans" and supported the right of people from every sort of background to live as full members of society without fear of being insulted or worse, it would not be such an issue. But as I have posted elsewhere there is a growing undercurrent where Evangelicals feel persecuted, Homosexuals can still be physically assaulted, Muslims feel unfairly tarred with the brush of terrorist extremism, and atheists are still seen by some as second class citizens. Unfortunately some from all these groups are not just on the receiving end of discrimination, but are also on the giving end.
In the UK we may not be as divided politically as you are, but I fear that socially and religiously we may even be further along that route of mutual distrust. I wish more than anything that whoever wins your election would genuinely call for unity, peace, and a re-examination of how we can learn to live with each other better at both a national and international level. There are lots of hard questions to answer as we look at the sometimes conflicting claims of religious freedom and non-discrimination in the 21st Century. But we must try to examine them together while thinking the best of those who disagree with us.
We have seen the results of extreme sectarianism in this country during my lifetime in the troubles of Northern Ireland where Catholic and Protestant were pitched against each other. We also saw leaders from both communities making the brave decision to reach out and shake each others hand. Nobody asked them to deny the wrongs the others had done. Nobody asked them to lay aside their precious beliefs. But, openness about the past and forgiveness for the sake of the future was encouraged in a similar way to the Truth and Reconciliation Commission in South Africa.
Surely we need to learn to like each other, or at least truly tolerate each other despite our differences?
The Scripture urges us "that supplications, prayers, intercessions, and thanksgivings be made for all people, for kings and all who are in high positions, that we may lead a peaceful and quiet life, godly and dignified in every way." (1 Timothy 2:1-2).
Content Director's Note: This post is a part of our Election Month at Patheos feature. Patheos was designed to present the world's most compelling conversations on life's most important questions. Please join the Facebook following for our new News and Politics Channel — and check back throughout the month for more commentary on Election 2012. Please use hashtag #PatheosElection on Twitter.