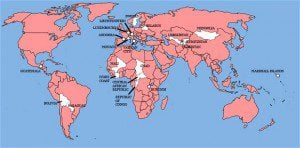 Joe Carter shared a fascinating study which has demonstrated that The British Have Invaded 90% Of The World. In other words, there are only 22 current nations who my forefathers have not invaded at some point in history. What is really interesting in my nation is that we don't seem to know how to think or feel about our military interventions in years gone by.
By all accounts Germans remain fundamentally regretful and embarrassed of their past. The French on the other hand still celebrate Naopleon.  We are somewhere in the middle of this, and basically do not mention it much at all.
We are I think quietly embarrassed, and rightly so for all the abuses of the empire. But at the same time, the empire was only possible because of the remarkable Industrial Revolution that began in our land and the benefits to mankind of those radical changes are still being felt today. I am sure that contemporary justifications for Imperial Aggression would have been about spreading progress. Arguably some American corporations have waged Economic Warfare on the rest of the world in a way that is every bit as brutal if not as violent.
I suppose that our history is what it is, and perhaps it does give the British people a unique responsibility, whatever our forefathers may have done (at times for good and at other times for evil), to ensure that in the 21st Century we are a blessing to every nation in the world.  I am pleased, for example, that we have roughly a quarter of all the world's nations represented in the church I attend here in London.  May we bless them, and as many come to our land from all over the globe, may many go forth to the ends of the earth with the gospel, and resources to help bring about genuine progress that will benefit the peoples of all almost 200 nations rather than merely shareholders back in the West.