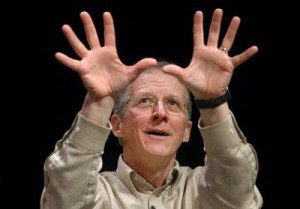 John Piper preached his last sermon as the Pastor of Bethlehem Baptist church this Easter. And he very appropriately pointed to the Great Shepherd, who is the true pastor of us all.
Surely this was a fitting end to a pastoral ministry with massive impact all over the world but its depth was felt most at Bethlehem:
It's Easter. And it's the last day of my office as shepherd in this flock. We could not have chosen a better day to finish. God raised your Great Shepherd from the dead!

The most important thing about an earthly shepherd is that he faithfully points to the Great Shepherd. So Bethlehem know this: I have loved shepherding this flock — feeding you, interceding for you, protecting you, caring for you. There have been books here and there. There have been conferences here and there. But week in and week out Bethlehem has been my life. And for me it has been so good. Christ has been a merciful Chief Shepherd to me, very merciful.

But now the point of this text is not about me or about Jason. It's about Jesus. Verse 20: God "brought again from the dead our Lord Jesus, the great shepherd of the sheep." Surely the point is clear: You have a great living Shepherd. And this Shepherd is not me and not Jason. It is Jesus. And he is more alive and more present than we are. More alive because he is the source of life and because he cannot die. More present because by his Spirit he is always with you. "I will be with you always to the end of the age" (Matthew 28:20).

We visit you in the hospital. He never leaves your bedside. Never. We grieve with you over your lost children. He carries them to himself, and heals your broken hearts. We tell you how you were born again. He witnesses by his Spirit that you are a child of God. We give you precious promises of everlasting joy. He seals you for the day of redemption. We counsel you with fallible wisdom. He guides you personally with his eye upon you. We warn you to fight sin. He knows your frame and fights for you.

Do not grieve at my departure, because not only has God unmistakably raised up Jason Meyer, as your under-shepherd, but God raided up Jesus from the dead as your Great Shepherd. Trust him.

via God Raised Your Great Shepherd from the Dead A Farewell Sermon – Desiring God.