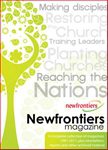 All over the world non-denominational church movements are springing up. Some call them organic, others "house churches" and others "restoration" or "apostolic." All those labels have been used of the movement that I have been a part of since the mid 1970s. Newfrontiers grew from humble early beginnings to become the largest charismatic church stream in the UK and spread to many other nations. Many of the first house churches are now warehouse churches.
Much has changed in recent times, but whether you are part of Newfrontiers or another similar group, or just interested in recent church history the resource I want to mention to you today is very worthwhile. As the website explains,
For about 30 years the Newfrontiers family of churches produced a regular teaching magazine. This provided a valuable body of material about different aspects of doctrine and practice.

The whole set has now been combined on a searchable data DVD thus providing a valuable resource. It also gives a history of Newfrontiers up to the end of 2011 and is an essential resource for anyone who wishes to explore the Vision and Values of Newfrontiers or to become familiar with the history of this family of churches, now numbering about 1000 in over 65 nations.

In addition there are newsletters, reports, books and other archived materials which can be accessed through a fast and easy search facility.
If you want to learn from this movements best practices and from our mistakes, this set of magazines will be very helpful. Newfrontiers was originally a spin-off from a wider "Restoration" movement in the UK and there is also a set of magazines available from that wider movement.
CLICK HERE TO BUY BOTH add "WARNOCK" as code during checkout for a nice discount (available only for a limited time)