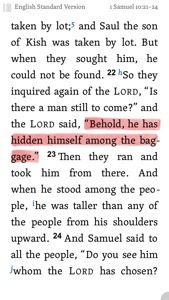 This morning I began to read the terrible tragedy that is the life of King Saul. It's as though the beginning of the book with its emphasis on leadership successes and failures is preparing us for the big contrast between David and Saul.
I was looking at his beginning of Saul's story for any hint of a root for the disaster that is to come. And yet it seems his beginning was very good. We see the following.
Saul was an impressive looking man (1 Samuel 9:1-2)
He was a responsible man (1 Samuel 9:3-5)
He listened to advice even from his servant (1 Samuel 9:4)
He was specifically selected by God (1 Samuel 9:16)
He was a humble man (1 Samuel 9:21)
God renewed his heart (1 Samuel 10:9
He experienced a life changing encounter with the Holy Spirit (1 Samuel 10:6)
He was wise and cautious in his speech (1 Samuel 10:16)
He tried to hide from his leadership position (1 Samuel 10:21)
He was restrained when people opposed his appointment (1 Samuel 10:27, 11:12-13)
He bravely led the people into battle (1 Samuel 11:7)

The sobering truth is that it seems Saul started well. The only hint of a problem is in the slightly pathetic picture of him hiding from Samuel when about to be appointed king. But he is not the only biblical figure to have been reluctant. I think of Moses right away. But could we see in that moment a hint of a man who didn't really know God for himself? Certainly the contrast between him and the worshipping shepherd boy who would replace him is stark.

For me it's enough to make me want to put my iPhone worship music on right now and spend some time worshiping! Could the heartfelt worship of God be an antidote for the corrosive power of being given positions of leadership and influence?