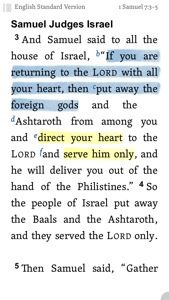 Today the church I am a part of Jubilee begins a church-wide call to prayer and fasting that will last three days. In one of those God-incidences I opened my Bible this morning to read 1 Samuel 7. God's people had turned away from pure worship of him. They had just deliberately marginalised the tangible presence of God among them. But despite this, God hadn't finished with them. God is an incredibly gentle, gracious and merciful God. He deals with us where we are and draws us forward. God doesn't make an issue here of the presence and their reaction to it. He deals with people today in the same way. Perhaps you are in a Church congregation that does not actively pursue the presence of God. Perhaps you have run away from tangible experiences that were labelled by others as the presence but were in reality manipulation. God is ready to respond to you right now.
Samuel calls the people of God back to a simplicity with their walk with God. This new term, I feel him calling me in the same way. He is calling you too. The call is to do the following:
Return to the Lord with all our hearts
Put away foreign gods and all forms of idolatry
Direct our hearts to the Lord
Serve him only
Fast and pray
Repent of our sin (1 Samuel 7:3-6)
I will be spending time today rededicating myself to God and repenting of my own sin. This is partly in response to what I have read this morning and partly in response to the outstanding sermon on Romans 12:1-3 that I heard yesterday. Please pray for me that my heart may be undivided in its loyalty, and that my whole body might serve God. I have been a Christian for more than three decades. But still I must come back to God regularly and begin all over again.
Will you join me?