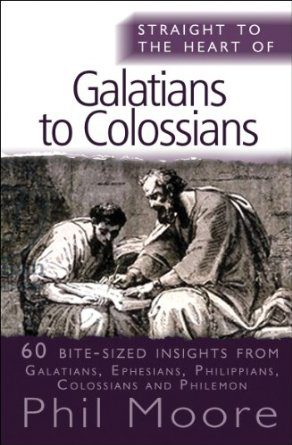 This blog is adapted from a chapter in Phil Moore's new devotional commentary, "Straight to the Heart of Galatians to Colossians", published this month by Monarch Books.
ONE STAPLE
"If we or an angel from heaven should preach a gospel other than the one we preached to you, let them be under God's curse!" (Galatians 1:8)
David Nowitz had tried very hard. The Society for Family Health in Johannesburg had never had such a conscientious marketing manager. He had managed to secure government funding for a mass distribution of pamphlets throughout the city to warn people of the dangers of sexually transmitted infections. He had the pamphlets translated into Zulu, Xhosa, Sotho and Afrikaans. He had paid a distribution company to deliver the pamphlets throughout the city along with a free condom to help people to respond to his warnings. It was only when he visited a home and saw one of his pamphlets that he realised with horror what had happened: the distribution company had stapled the condom to the pamphlet, putting two holes in every single condom.
David Nowitz admitted to reporters that "We made a deal with a low-budget distribution company." He had entrusted his message to people who thought a single staple wouldn't make any difference, when in reality those two tiny pin pricks undermined everything. His safe-sex campaign actually increased the danger of sexually transmitted infections and unwanted pregnancies across Johannesburg.[1] If you can imagine how David Nowitz felt when he saw his stapled pamphlet for the first time, then you can imagine the horror which stirred Paul to write his letter to the Galatians at the start of 49AD.
Paul had spent part of 48AD planting churches in Pisidian Antioch, Iconium, Lystra and Derbe – the cities of Galatia, which is now in southern Turkey.[2] We are told in Acts 14:3 that he went as God's missionary to preach "the message of his grace," explaining that Jesus lived the perfect life which the Galatians had failed to live and that he had died the brutal death which the Galatians deserved to die. Paul's announcement that human sin provokes God's judgment wasn't news to the people of Galatia (the Jews and pagans were agreed on that), but what was news was Paul's announcement that religious rituals and good behaviour were not enough to atone for human sin. The Galatians tried to stone him to death for preaching that "Through Jesus the forgiveness of sins is proclaimed to you. Through him everyone who believes is set free from every sin, a justification you were not able to obtain under the law of Moses."[3] The essence of Paul's message to the Galatians was grace, which is why Acts 13:43 tells us that he "urged them to continue in the grace of God." If they forgot this, then the Galatians were as foolish as a Johannesburg pamphlet distribution company.
Paul was very agitated when he wrote his first New Testament letter.[4] Since he does not mention the decisions which the apostles made in Jerusalem towards the end of 49AD in Acts 15, he must have written to the Galatians earlier that same year whilst he was staying in Syrian Antioch.[5] We are told in Acts 15:1 that "Certain people came down from Judea to Antioch and were teaching the believers: 'Unless you are circumcised, according to the custom taught by Moses, you cannot be saved.'"[6] Evidently these same false teachers were making inroads into the churches which Paul had planted in Galatia, for he writes in 5:12, "As for those agitators, I wish they would go the whole way and emasculate themselves!" Circumcision, obedience to the Jewish law, and reliance on a few good works might seem like tiny pin pricks in the Gospel, but Paul could see that it undermined absolutely everything. He warns the Galatians not to be "fools." If Jesus' work of salvation is perfect, then adding anything to it obscures its saving power.
This background helps us understand the opening verses of Galatians. It's why Paul begins this letter with the phrase "Grace and peace to you from God our Father and the Lord Jesus Christ." He doesn't use this phrase out of habit to open all of his letters, but because the Gospel is about God's grace from start to finish. It tells us that Jesus has done everything to free us from God's judgment because we are powerless to free ourselves. We don't need God's reward for our best efforts. We need God's mercy (not punishing us as we deserve) and we need God's grace (blessing us even though we don't deserve it). We can never earn these things from God ourselves. We can only receive them as gifts because we believe in the perfect life which Jesus has already lived for us.
Paul wrote to the Galatians in their native Greek, and he uses three Greek words to show them just how serious these pin pricks of self-reliance are. The first word is metatithêmi, a word which was normally used for soldiers who switched sides before a battle (1:6). Paul tells the Galatians that switching to self-reliance instead of continuing in God's grace makes them turncoats who have sided with the people who attacked him. The second word is heteros (1:6). The Greeks had two words for another: the word allos meant another of the same type (Jesus uses this word to describe the Holy Spirit as another helper like himself in John 14:16), and the word heteros meant another of a different type (this is the root of the English word heterosexual). By describing the new message which was being preached in the Galatian churches as a heteros gospel, Paul emphasises that Christian self-help is very different from the real Christian Gospel. Since the Gospel is perfect, adding to it is just as fatal as subtracting from it. These tiny pin pricks of self-reliance couldn't be more serious.
The third word which Paul uses is anathema (1:8 and 1:9). This is the word which was used throughout the Greek Old Testament to translate the Hebrew word hêrem, or handed over to the Lord for destruction. It was the strongest curse which a first-century Jew could place on anyone, so Paul utters it twice in order to convey to his readers the seriousness of their situation.[7] By smuggling human works into the finished work of Jesus these false teachers had committed the same sin as Achan in the time of Joshua.[8] They must be cut off from God's People or the Galatians would be cut off with them.[9]
That's why Paul's letter to the Galatians is the Magna Carta of the New Testament, the proclamation of God's freedom as a gift to sinful people who believe in Jesus Christ.[10] Paul tells us that this message of freedom cannot be earned. It is all about what Jesus has done for us and not about what we can do for him in return. Reliance on religious rituals or on our own good works isn't a different emphasis. It is an entirely different gospel.
To read more free chapters from the "Straight to the Heart" series of commentaries, please go to www.philmoorebooks.com