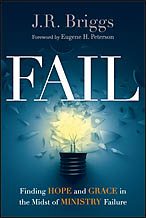 J.R.Briggs is joining me right here on the blog for a live web chat on his new book Fail: Finding Hope and Grace in the Midst of Ministry Failure. This is part of the sponsored Book Club feature here on Patheos.
As the video trailer at the bottom of this post points out the statistics for the success of the USA pastoral ministry is devastating. Brigg's book focusses on how we can cope with ministry failure personally, and we do discuss this, we also discuss, "Is our Pastoral system itself broken, and what if anything should we be doing about that?"

"I thought God had called me to plant this church. Why did we have to shut our doors after only three years?"

"I was at my breaking point. Then I got the news that our nine-year-old daughter had leukemia. I would have quit ministry forever, but I had no other employable skills."

"False accusations were made against me and my family, wrecking our reputation permanently and forcing us to leave not only the church, but move out of the area."

"I've served my church for the past 27 years and I've grown that church from 150 to 24 people."

What do we do when we've failed? Some ministries are shipwrecked by moral failures like affairs or embezzlement. But for most of us, the sense of failure is more ordinary: disillusionment, inadequacy, declining budgets, poor decisions, opposition, depression, burnout. Many pastors are deeply broken and wounded, and we come to doubt that God has any use for us.

J.R. Briggs, founder of the Epic Fail Pastors Conference, knows what failure feels like. He has listened to pastors who were busted in a prostitution sting or found themselves homeless when ejected from ministry. With candid vulnerability, Briggs explores the landscape of failure, how it devastates us and how it transforms us. Without offering pat answers or quick fixes, he challenges our cultural expectations of success and gives us permission to grieve our losses. Somehow, in the midst of our pain, we are better positioned to receive the grace of healing and restoration.
Read more: http://www.ivpress.com/cgi-ivpress/book.pl/code=4111#ixzz3AO8dR28n