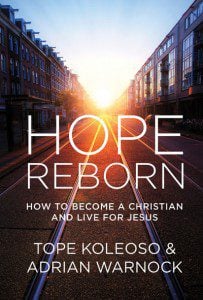 As a medical doctor specializing in psychiatry, I learned a lot about hope. Hopelessness is intimately linked with depression, which causes incalculable misery. Hope can be destroyed by unemployment, a terminal illness, or the death of a loved one. Mental and even physical illness can be the result of shattered dreams. When someone feels their hope is entirely lost, they may sometimes even become suicidal.
Hope can also be easily manipulated. Clinical trials have demonstrated that some people who believe they are getting an active medication, but are, in fact, being given a sugar pill, will get better. This is called the "placebo" effect and applies in a wide variety of conditions. Scientists have even shown that if someone is given decaffeinated coffee, but believes it is caffeinated, then scans will show that their brain has been activated in the same way as if it had been real coffee. Many studies have demonstrated the power of hope, even when it is placed in something false.
The Bible tells us "hope deferred makes the heart sick" (Proverbs 13:12). False hope eventually disappoints us because when our hopes are dashed life feels empty and meaningless. Of course, this is never truer than when a loved one dies. The apparent hopelessness of death is why polite people don't talk about the subject much.
The Apostle Paul describes mankind in general as "having no hope and without God in the world" (Ephesians 2:12). In contrast, he claims that Christians "who have the firstfruits of the Spirit, groan inwardly as we wait eagerly for adoption as sons, the redemption of our bodies. For in this hope we were saved" (Romans 8:23-24). For the Christian, hope is eternal.
As a Christian myself I believe that real hope is only found in a person, the Lord Jesus Christ. Uniquely among all religions, not only does Christianity teach that there is a hope that goes beyond the grave, we also believe our founder conquered death itself and came back to display this glorious victory to us. The Christian gospel is a message of hope demonstrated. It is a message of a sure and certain hope of an eternity with God.
We do not work hard to try to prove ourselves worthy of this future, with the goal that we will one day be fortunate enough to be judged by God as righteous. Rather we believe that despite our failings, there is another in whom we can put our hope. One perfect God-man who came, lived a perfect life for us, died for us, rose again for us, is now reigning for us, and has promised that he will accept ALL who come to him asking for forgiveness.
This message of hope is why Paul urges Christians that although it is all right to be sorrowful at the parting that is death, we are to grieve in a different way than those who have no hope.
No other faith claims that someone has come back from the grave to tell us that our future is secure. No other faith claims that we can know for sure that we are on our way to that future now. No other faith makes the audacious claim that God has himself provided a way for us to be made righteous before him, and that every sin can be forgiven, leaving us confident in our standing before him. No other faith claims that God himself has met his own demands for our behavior so we don't have to. Christians believe that whatever we do now, because God has become our Father, he will never leave us or desert us.
Yes, these claims are audacious. Yes, other faiths believe in a possibility of a future life. But none are bold enough to say, "You can be sure that you will have that life right now." Even Christians sometimes worry that this message of free grace will lead to a callous disregard for morality. The truth, however, is that when someone truly accepts the hope offered in Christ, they find their desires change. As a result Christians do expend themselves to live in light of the hope that they have. There would be something pitiful about a prince who despises his birthright to live on the street as though he were homeless. Like a wise prince who chooses to stay in the palace rather than sleep in the gutter, Christians make such choices because we are confident of our identity, rather than because we are working in order to please God and earn our position before him.
The Christian hope is a powerful force for good in the world. It drives millions of Christians to approach life with confidence and an inner peace. It leaves many of us wondering how anyone without such a hope can face the daily drudgery of life, and all the pain and tragedy that is in this world. To the Christian, this world is NOT as it should be. But we look forward in hope to the day when it will all be restored.
Christians are not immune to the suffering of this world. We do find our hope is challenged at times. Some will even need to seek medical help for conditions like depression. But deep down inside us, all true Christians have a hope that it would seem to us that people of different faiths or no faith simply do not share.
When I wrote Hope Reborn together with my pastor, Tope Koleoso, we had several goals in mind. We were aware that in a modern post-Christian world many simply do not understand the age-old message of the gospel any more. So we hope that our book will be of interest to anyone who wants to learn more about what Christians believe. We didn't assume anything as we wrote.
Hope Reborn also aims to guide people through the process of becoming a Christian. In our experience even many Christians are uncomfortable explaining these simple steps to others. But we also want to inspire Christians who have become over-familiar with the hope offered in the gospel, and have perhaps become cynical. Our desire is that if you are a Christian your hope will be renewed by reading this book, and that you will feel more ready to "give a reason for the hope that is in you" (1 Peter 3:15).
For those reading this who are not Christians, I would genuinely be interested in learning your response to the book, and also whether you think it is fair of me to suggest that true hope is experienced only by Christians. What do you hope in? How confident are you that your hopes will not eventually be dashed? How trustworthy is your source of hope?
This month Hope Reborn is also featured on the Patheos Book Club.
---

Buy in the USA from Christianbook.com 
---

Buy in the UK from 10ofthose.com
---